The £16 sequinned dinosaur shirt from that mums (and their children) are going crazy for
Will you investing in one?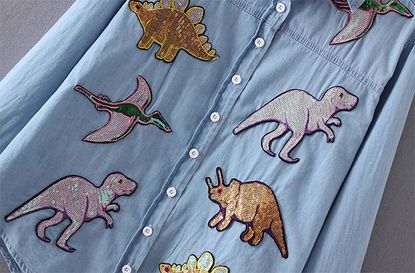 A £16 denim shirt, from eBay, has got mums, and their children, very excited indeed.
The shirt, which is adorned with adorable sequinned dinosaurs, isn't just a fashion statement - it's a fab focal point for little ones too, with many women saying that their kids can't get enough of the sparkly decoration.
The trend was highlighted amongst mums in the Facebook group 'Can I Breastfeed In It?', a page for mums who want to talk about fashion and help each other find practical, but fashionable clothing for while they're breastfeeding.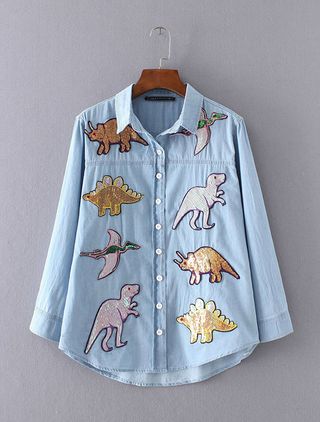 Image: eBay Many of the women said that they had ordered the shirt at the same time, and were very pleased with their purchase.
According to one of the posts in the group, mums love the comfortable, flattering design and look of the shirt, and and their babies are absolutely mesmerized by the sparkly sequinned dinosaurs too!
One post shows a mum posing in the shirt she's received, with a comment saying: 'The sequinned dino shirt arrived for a lot of us today, didn't it? I can confirm the L, which says it's a 10 is more of a 12/14. My baby absolutely LOVES it....stares at the sparkly dinosaurs and loves the feel of the sequins underneath his fingers.'
Another member of the Facebook group said that the shirt grew in popularity after several posters saw a presenter on Channel 5's children show Milkshake wearing it, and instantly wanted to get their hands on one of their own.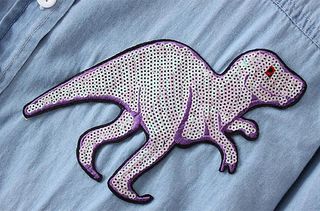 Image: eBay
In response to the mum's photo and comment about the shirt one member responded: 'I love it - buying one now,' while another agreed: 'I totally missed this - it's awesome.'
The blue denim shirt, available from Ebay, for just under £16 has different coloured dinosaurs on it, which are all made from sequins.
Will you be investing in a dinosaur shirt of your own? Let us know if you love it in the comment section below!
Parenting advice, hot topics, best buys and family finance tips delivered straight to your inbox.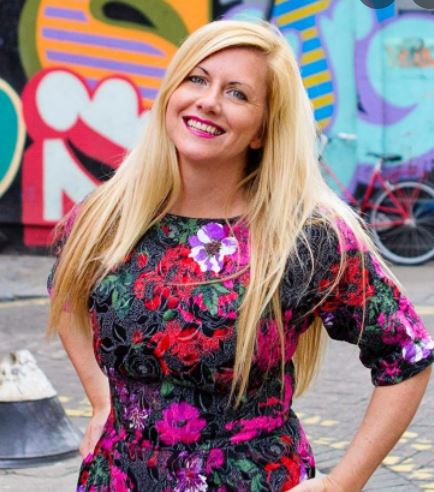 Sarah is a freelance journalist, writing for various women's magazines and national online consumer titles including the BBC and The Daily Mail, for over 10 years. Sarah has interviewed CEO's, real-life case studies and celebrities. Writing on everything from travel to fitness, and business to beauty - some of her features have been read by millions of people - in just one day.