Sleep diaries: Sleeping with... a two-year-old
How many hours will this mum actually get?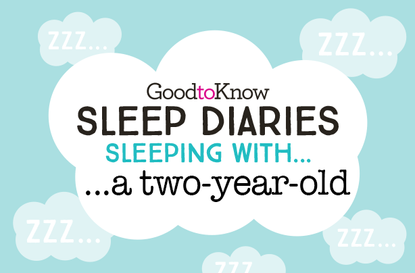 Ever wondered how much sleep other mums actually get each night?
As part of our sleep diary series, we've asked parents of children of all ages to note down their honest sleep problems for a week, and we bet some of their sleep habits (or lack thereof!) sound rather familiar - particularly when you compare how much sleep children need, and how much they actually get!
Here, mum Emma Robinson, 37, who is mum to two-and-a-half year old son Jake and 24 weeks into her second pregnancy, lets us in on what's it's really like trying to get shut eye throughout the 'terrible twos'....
Monday
10pm: I get into bed with a book. I'm reading How to Grow a Baby and Push It Out by Clemmie Hooper, a midwife who also blogs under the name Mother of Daughters. I love it - it's a really easy read and reminder of all the things I learnt with my first pregnancy. 10.10pm: My mind wanders as I think of things I need to do, like booking Mother's Day lunch, my husband's upcoming 40th birthday and a hair appointment. Start writing myself an email for tomorrow. 10.20pm: Turn the light off. 10.30pm: Fall asleep. 1am: Jake starts coughing and wakes me. Ned a wee. Go back to sleep about 10 minutes. 3am: I wake with cramp - it feels like a practice run of contractions for baby number two. Eventually get back to sleep about 3.30. 6.15am: My husband's alarm goes off. He works as a designer at M&S and he wakes up before than me because he starts earlier so that he can be home earlier to have time with our son. We have an unwritten rule he doesn't speak to me or turn lights on! He actually fitted some wardrobe lights so that he can find his clothes without needing the main light on. 6.30am: My Lumie light tells me I really need to get out of bed and head to the shower. It's amazing - I've had it for a few years now and really recommend it. I don't need the sound alarm and it definitely helps the waking up process (unless my son has already woken me). I used to snooze a lot and end up more tired, now I don't. Tiredness rating: 4/10
Tuesday
10pm: I get into bed and read. 10.20pm: I'm asleep. 11pm: Woken by my husband coming to bed, but get back to sleep quite quickly. 1am: Jake stirs - I think he's having a nightmare. Go and check on him and get back to sleep about 1.30. 3am: Up again - need a wee! 4am: I've been having weird dreams and can't stop thinking about them. I can't remember exactly but it was something to do with my son (which I'm guessing was prompted by him stirring and thinking he was having a nightmare)I eventually get back to sleep about half an hour later. 6.14am: Jake wakes me up a minute before the alarm! Tiredness rating: 7/10
Wednesday
11:45pm: After a cinema trip and nightmare getting home on the tube, I crawl into bed exhausted. Head whirring, it takes about half an hour to get to sleep, and just as I drift off, Jake shouts out 'I don't want it!'. It's some kind of nightmare again, so I go and check on him. End up falling asleep on his bedroom floor. 3am: Wake up to have a wee, and get back into my own bed. 6.40am: Woken by "Mummeeeeeee!" Tiredness rating: 8/10
Thursday
11:30am: Throughout the day I consume a lot of (decaf, as pregnant) tea and hot chocolate. My head feels like it's in a cloud so I doze on the sofa for 20 minutes while Jake watches Transformer Rescue Bots - (his current obsession!) as it's my day off. 9.30pm: Get into bed and read. 10pm: I fall asleep. Midnight: Get up for a wee. 6:30am: Another "mummeeeee" wake up call - although I am feeling much more refreshed after a good sleep. Tiredness rating: 2/10
Friday
3pm: Slump at 3pm so had a cupcake for some sugar. 9.30pm: Get into bed to watch Gogglebox, but fall asleep with it still on in the background. We very rarely watch TV in bed now - maybe a few times a month. I don't like doing it as we used to quite a bit and fall asleep with it on, which then meant we didn't get as good a nights sleep. I only do it this night because I'm really uncomfortable with bump and wanted to lie down with my mummee pillow. 1am: Up for a wee. 6:30am: Woken by Jake - he wants to go downstairs and play! Tiredness rating: 7/10
Saturday
11pm: Time for bed. I read and then put on a hypnobirthing CD. I read a little and listened a little about it with Jake but definitely didn't do this when I was in labour - I had all the drugs, and ended up with an emergency C-section anyway! I'm hoping for a calmer labour this time. 11.30am: Sleep. 2am: Up for a wee and to turn the CD off. 3.45am: Woken by cramp in my leg. 6.30am: 'Mummeeeee!' Tiredness rating: 4/10
Sunday
10pm: Into bed. Thinking about Monday and what I need to do at work. Send myself an email and start thinking about what to wear the next day. My leg hurts still from the cramp last night, so I get up and get a hot water bottle. 11pm: I finally get to sleep. 4am (My longest sleep in a while!) I wake up with cramp in other leg. Husband thinks I'm in labour. 4.30: Get back to sleep. 6.30 I'm woken up by Jake. Have a smoothie with banana and kale after reading this helps stop cramp! Tiredness rating: 2/10
I'd say this was a fairly average week of sleep for me and my family. However, the following week Jake started waking at 4am - so upon reflection, this week turned out to be good in comparison!
Trusted, informative, and empathetic – GoodTo is the ultimate online destination for mums. Established in 2007, our 15-year-strong archive of content includes more than 18,000 articles, 1,500 how-to videos, and 7,000 recipes.