Mum sparks HUGE debate about smuggling your own alcohol into a wedding reception
Would you take a hip flask or a bottle of your own wine to a wedding?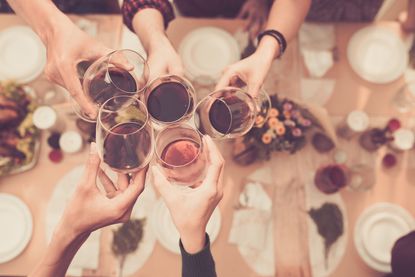 GoodTo newsletter
Sign up to the GoodTo Newsletter. You can unsubscribe at any time. For more information about how to do this, and how we hold your data, please see our privacy policy
Thank you for signing up to . You will receive a verification email shortly.
There was a problem. Please refresh the page and try again.
A wedding can be an expensive thing to fork out for - paying for a new outfit, the hotel and a gift. So of course you're going to think of ways where you can cut back.
One mum appears to have been thinking just that when she sparked a debate on the parenting site Mumsnet, starting a thread where she asked: 'Smuggling wine into a wedding reception? Would you? Have you?! Did you get caught?!'
The question caught the eye of many other users, with some telling their stories about how they managed to sneakily drink their own alcohol.
One user responded with: 'I did it. Hotel, middle of nowhere, extortionate bar prices. We were already paying to stay in the hotel, so I took a hip flask with vodka in to the reception. Just bought cokes and topped up. One of the brides knew and even had some herself, thought it was a great idea. I wouldn't do it as a matter of course, but I'd already spent a fortune.'
While another confessed: 'I did this once at a night out. Gift wrapped a wine box in lovely paper with ribbon etc. Cut a hole for where the tap was and stuck a big bow over it. Bow got removed to top up the wine and then replaced again. Worked a treat.'
Another shared her story: 'I went to a wedding where a group of us shared a 'car bar'. Basically a couple of bottles of spirits in the boot of someone's car. We bought soft drinks at the venue and topped up from the car bar. Felt no shame, drink prices were extortionate and at the time I was skint so it made sense to keep the cost down.'
Others even gave tips from their past experiences about how they'd managed to get their booze in without without getting caught.
'If you're going to start smuggling drinks into wedding receptions into your handbag, I totally understand. Never done it myself but have been to weddings when I can see why people have sneakily brought their own along!' one suggested.
'If you must do it - take the bottle in a gift bag,' said one more.
However, some other posters thought it was a terrible idea, no matter how it was done. 'No, that's disgraceful behaviour,' one commented, while another questioned: 'Why would you??'
Would you smuggle wine or any other alcohol into a wedding? Or do you think it's wrong? Let us know your thoughts in the comment box below!