We earn a commission for products purchased through some links in this article.
Buckingham Palace have shared a rare photograph of the inside of the Queen's home, pictured during a visit with New Zealand Prime Minister John Key.
The image, which depicts the Queen's private sitting room at Windsor Castle, shows the monach seated on a comfortable-looking printed sofa, and we imagine her furniture is rather more expensive than our Ikea set-up, in surroundings that honestly don't look that different to our own!
There are a few personal touches in the neatly-kept space, including a framed picture of the Queen Mother on the desk in the top left-hand corner of the image. One of her beloved dogs, a dachshund/corgi cross named Candy, sits patiently at her feet.
The Queen was famously given a Corgi named Susan for her eighteenth birthday, and has stayed loyal to the breed ever since. At present, she has two purebreds, Holly and Willow, and another Dorgi named Vulcan, who accompany her to breakfast every morning.
We wouldn't have guessed it, but it also looks like Her Majesty may be a keen television watcher, as the wooden coffee table to her left holds a Sky remote control (well, she's got to keep up with Game of Thrones, hasn't she?) and a leather-bound copy of the Radio Times.
There is also a horseshoe-shaped ornament, which may be a nod to the Queen's other beloved pets – her horses.
The Queen spends around three to four days per week at Windsor Castle, which is said to be her favourite official residence as she has access to the countryside, where she can ride. Other photographs of the tour show plush red carpet, more antique furniture, and more personal pictures of the Royal Family, including The Queen's daughter, Princess Anne, show-jumping, as seen in the top-right of the image below.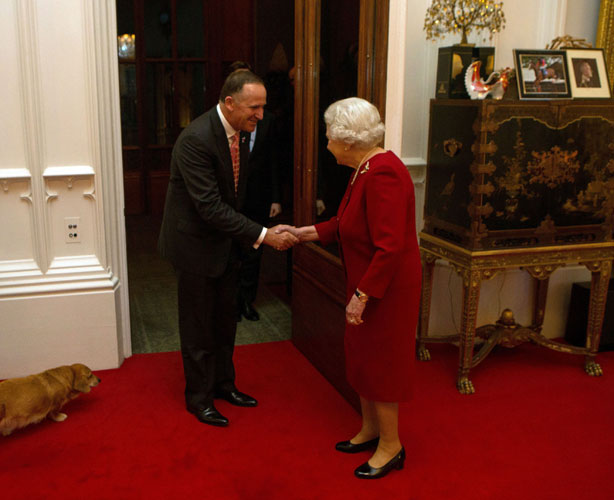 Would you love your house to look like Her Majesty's? Or do you have slightly less traditional tastes than the Queen? Use the comment box below to let us know your thoughts!