'Temper tantrums' could be investigated as indicator of possible child abuse under new guidelines
Concerns have surfaced after the new guidelines hinted that parents of children demonstrating typical childlike behaviour could be questioned...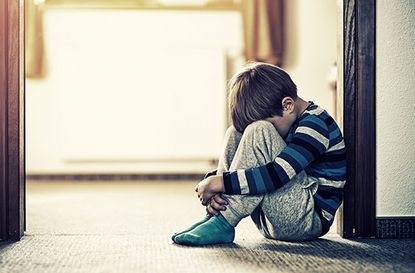 Professionals working with children, such as teachers and nurses, have been told to look out for 'soft signs' of child abuse, including attention seeking and clinginess.
With over 57,000 children in the UK needing protection, the National Institute for Health and Care Excellence (NICE) have issued new guidelines to adults working with children encouraging them to ask more questions when it comes to children showing 'soft signs' of abuse or neglect.
According to the guide these signs could be behaviours such as attention seeking or being over friendly towards strangers.
NICE have encouraged adults working with children to be more vigilant with children showing the following 'soft signs':
Low self-esteem


Wetting and soiling


Recurrent nightmares


Aggressive behaviour


Withdrawing communication


Habitual body rocking


Indiscriminate contact or affection seeking


Over-friendliness towards strangers


Excessive clinginess


Persistently seeking attention

However, the new guidelines have been met with concerns from some members of the public, who've suggested that parents could be targeted wrongfully if their child is prone to outbursts or naughty behaviour.
Some online commenters pointed out that at a young age many children will show signs of being overly clingy or wanting to stay at home, and that this isn't a sure sign that anything is wrong.
Commenters on The Sun online said, 'What a load of rubbish. Most kids at a young age would rather stay at home with mum or dad'.
While others agreed, writing, 'As someone else said most kids would rather not go to school and will try it on. It's a shame these so called experts don't pick up on the real abuse'.
Another commenter worried that these new rules will come at 'the expense of decent families'.
On Twitter there have been similar concerns about the possibility of parents being falsely accused. One said, 'Really any parent can be falsely accused.'
Professor Corinne May-Chahal, chairwoman of the NICE committee, admits that these signs do not always mean that there is a problem at home.
'These may not always be proof of abuse or neglect taking place, but they underline when to check on a child's wellbeing.'
The NICE have added that the guidelines do not state that parents will be investigated if their children show signs of the behaviour listed, and they make it clear that any childcare professionals with concerns should speak with all the people in a child's life including family and friends.
Trusted, informative, and empathetic – GoodTo is the ultimate online destination for mums. Established in 2007, our 15-year-strong archive of content includes more than 18,000 articles, 1,500 how-to videos, and 7,000 recipes.