'I feel like I deceived you all' Mummy blogger reveals the truth behind her glamorous Instagram photos
'That is not me everyday!'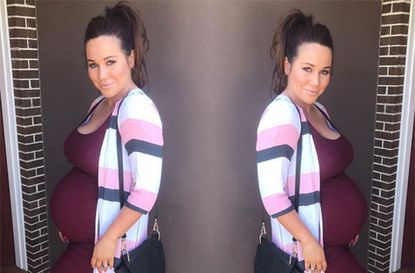 A mummy blogger has revealed the truth behind her usually glamorous Instagram feed after feeling like she had 'deceived' her followers.
Sophie Cachia, who is currently expecting her second child, recently uploaded a picture of herself dressed up for a night out with friends. Clad in a tight fitting black dress and a pair of oversized sunglasses, she looked every inch the yummy mummy, and her fans were quick to compliment her on the look.
'Hottest pregnant lady eeevvverrrr!' one of her 149,000 followers exclaimed, while a second agreed 'If I ever have another baby I wanna look this good'.
Reading the comments, the 26 year old, who blogs under the name The Young Mummy, decided to balance the situation with a totally candid snap - this time, posing with no make up on and wearing nothing but underwear.
'I feel like I deceived you all,' she said.
'I uploaded a photo of me looking pretty darn glamorous. And although I like that photo of myself, and I did put in effort to go out in the city looking 'nice' that day to perk myself up a bit - I feel like a lot of you misinterpreted me as a person.'
Sophie went on to explain that while a lot of the compliments were kind and complimentary, she felt uncomfortable with people comparing themselves to that one snapshot of a small portion of her life.
'I'd had a spray tan, one that's now manky. My hair was curled, it's now sweat-infested in a knotty bun. I had applied my 'glam' makeup look that takes 30mins and I had big sunnies covering half my face,' she wrote. 'I also SOMEHOW looked thinner, especially than how I feel, but I think it was just the angles and #instahubby worked some magic that day by nailing it with the first pic.'
'Now whilst I am only 26 and proud of the fact I sometimes make a lot of effort in my presentation, I do things like tan, makeup, hair etc quite regularly... THAT IS NOT ME EVERYDAY!!!!'
'I have a bikini line that I haven't seen for over a month assumably in desperate need of a good wax and owner to a smell of sweat that I can't quite figure out where it's coming from. This is me in all my swollen-cankles glory.'
'Please don't say 'I wish I looked like you' because whilst I should take that as a compliment and I am grateful for your kindness, every person's body is different, everyone's pregnancy is different, and the LAST thing I ever want to seem like I am is the person who makes everything look OK all the time. We all know that's bullshit, true?'
This time, Sophie's followers were just as appreciative of her honesty, with one calling her message 'One of the best posts I've ever seen on Instagram'.
'Love your honesty. It's so refreshing!!' another commented. 'I feel the same as you, I love glamming up and feel fabulous when I do but ☝ is me is me 80% of the time too. And I'm ok with that'.
Trusted, informative, and empathetic – GoodTo is the ultimate online destination for mums. Established in 2007, our 15-year-strong archive of content includes more than 18,000 articles, 1,500 how-to videos, and 7,000 recipes.