Sophie the Giraffe manufacturer responds to parents' complaints about mouldy toys
It comes after some parents have shared pictures of mould growing inside the popular baby toy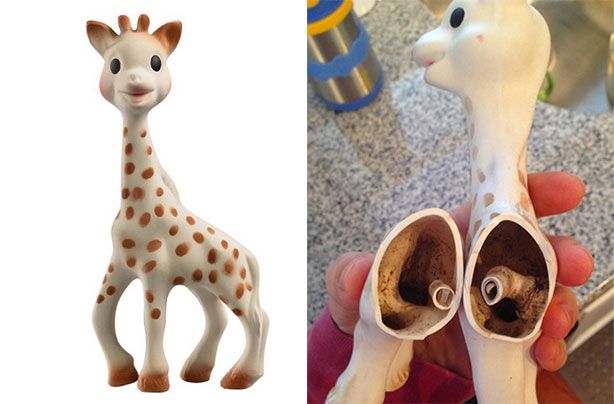 The company behind popular baby toy Sophie the Giraffe has advised parents to make sure they wash the toy properly, after claims that mould can grow inside them.
Concerns about the product were first raised by Stephanie Oprea, who shared a picture of the inside of the toy on Amazon.
She warned parents, saying: 'Beware. If you have a drooly baby, moisture will get in the hole and you'll end up with mould. We've had ours for two years and the entire inside is coated with black mould.
Image: Amazon/Stephanie Oprea
Since posting the photo other parents have shared their concerns about mould growing inside the popular toy, which is often used to help comfort teething babies.
Dana Chianese also shared a photo her baby's giraffe, revealing that the inside is covered in mould. She told Good Housekeeping: 'I decided to cut into Sophie out of curiosity and discovered a science experiment living inside.
'Smelly, ugly mold living in my infant's favourite chew toy!' However, Vuilli, the manufacture behind the toy has defended the product, arguing that it's perfectly safe as long as parents follow the cleaning instructions.
A representative told the Huffington Post: 'It's important to know that Sophie The Giraffe is composed of 100% natural rubber, so the cleaning instructions have to be carefully respected.'
While you might think that washing the giraffe will keep it clean, the company warned that this is what would be causing damage. They said that to keep the toy clean: 'It should not be immersed in the water nor rinsed off, to prevent water from getting inside, as she may become damaged.'
https://www.facebook.com/lewis21novwmber/photos/a.174796142589503.38455.173887329347051/1190428651026242/?type=3&theater
Instead, they said that parents should follow the instructions on the packaging, which says to clean the surface of Sophie with a damp cloth.
They later added: 'The instructions for cleaning Sophie are as stated on the packaging. If cared for according to these there is absolutely no concern about hygiene or mould.'
Some parents have also defended the company on Stephanie's original post, arguing that all toys will get dirty if not cleaned properly. One person said: 'All toys that squeak or squirt water are vulnerable to this, not just Sophie the Giraffe.
'You can either let it soak in vinegar or bleach and squeeze it through it, put it in the dishwasher now and then, or just take your hot glue gun and close up the hole when it's new, so it's not an issue to worry about.
'Not the company's fault that people are unaware of how mold grows.'
Charlotte Whistlecroft is a former Family writer at GoodTo. She obtained a BA in Theology and Theological Studies at Durham University, going on to study a masters at City University London in 2016. Since leaving GoodTo she has worked as a Social Video Researcher at Mail Online and is now Assistant Producer at BBC Sport.