'I carried a baby for nine months' Stephanie Davis hits back at body shaming comment about her stretch marks
'Pretty shallow of you'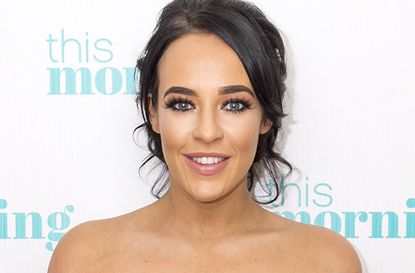 GoodTo newsletter
Sign up to the GoodTo Newsletter. You can unsubscribe at any time. For more information about how to do this, and how we hold your data, please see our privacy policy
Thank you for signing up to . You will receive a verification email shortly.
There was a problem. Please refresh the page and try again.
Stephanie Davis has hit back after a troll left a comment on one of her Instagram posts pointing out the new mum's 'stretch marks'.
Actress Stephanie, who gave birth to son Caben-Albi three months ago (opens in new tab), shared a snap of herself looking glamorous after a recent appearance on ITV's This Morning, writing alongside: 'Thankyou to my gawjus team today💓 Make up @fern_makeup Hair @jack_hair26 Love you guys😘 Tan @hayleypeo22_ LA TAN'.
Many of the comments on the image were complimentary, with one fan saying: 'Great interview today on this morning. Go you. Looking fab and baby Caben is just gorgeous 💙💙'
'As ever u look radient and stunning u looked amazing in this morning and your amazing son as well hope u all the world of luck as a family 😍😍😍,' another agreed.
However, a handful of commenters were very critical of the 24-year-old's appearance: 'Your eye brows were wonky on this morning haha 😂😂😂😂😂,' read one negative remark, whilst a second account stated: 'She has some bad stretchmarks though'.
Mum-of-one Stephanie wasn't going to take the stretch mark comment lying down, and instantly responded, calling the follower in question 'shallow' and a 'douche'.
'Yes I have stretch marks because I carried a baby for nine months, and fed him and got him strong though feeding off my breasts... how damn amazing is that?' she exclaimed.
'I love my stretch marks Thankyou. Pretty shallow of you when I've had a baby 3 months ago to comment on my boobs, but take it as a compliment because you were clearly looking at my lady lumps👍🏻 Douche'
And Steph wasn't the only one to speak out in defence of her body - many of her 781,000 followers have slammed the cruel comment too.
'Stretch marks are something to be proud in. They are our battle wounds and show our biggest achievement/s in life ❤️,' said one.
'I cant believe someone would be so shallow and rude to comment like that. Things like scars and marks show who we are and make us wonderful 👌,' added another furious fan.
'you look stunning, ignore any troll!' a third told the soap star. 'Jealously is a disease! i have stretch marks too and I'm damn proud of them! My beautiful daughter was the best thing to ever happen to me and because the stretch marks came with her they are a part of me id never change! ❤️'
Stephanie has previously admitted to feeling self conscious about her changing figure after the arrival of her son, telling OK! magazine back in March: 'I'm used to being a very petite size 6 to 8 – I've never had curves but now my hips have got a lot bigger.'
'My legs and tummy look bigger, too,; everything just feels a bit more plump.'
'I know I don't look bad for someone that's just had a baby, but it's something I am feeling self conscious about.'
Explaining that she was a size 12 at the time, and aiming to get down to a size 10, she said: 'I'm planning to do some workouts using Caben as a weight because I've heard that can be really good!'