'Shame on you' Tesco forced to remove controversial children's fancy dress outfit
The costume triggered an angry reaction from customers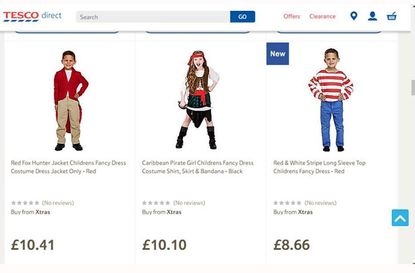 GoodTo newsletter
Sign up to the GoodTo Newsletter. You can unsubscribe at any time. For more information about how to do this, and how we hold your data, please see our privacy policy
Thank you for signing up to . You will receive a verification email shortly.
There was a problem. Please refresh the page and try again.
Tesco has been forced to stop selling a controversial fancy dress outfit for children, after the product sparked debate on social media.
The product in question was a fox hunter costume, typically worn by the hunt master, which featured a long-tailed red coat and was aimed for children aged 7 and older.
Described in the website as 'Red Foxhunter Jacket Children's Fancy Dress Costume', a young boy could be seen modelling the clothes, which were available for £10.41.
'This costume includes a long sleeved red tailcoat style jacket with a single black button at the front. Fantastic for World Book Day, school shows or just dressing up fun. Please note White T-shirt, Trousers & Shoes not included', the product's description read.
However, the costume sparked controversy on social media, after some customers took to Facebook to accuse Tesco of promoting a 'cruel' bloodsport - which has been banned since 2004.
One customer wrote on their Facebook page: 'I am appalled at how you are selling fancy Redcoat fox hunters fancy dress clothes for kids.
'Are you really trying to encourage them to take up a highly cruel animal bloodsport? I would like this complaint to be forwarded to your head office.'
Another user commented 'What's the crack here Tesco - selling a fancy dress item so kids can dress up as purveyors of bloodsports?
'Fox hunting is a highly abhorrent act, and you shouldn't be promoting something that has been banned since 2004.'
A third also complained on social media: 'I am very disappointed to see you have a fox hunting costume as one of your fancy dress outfits. What a shame that you are promoting this to children. Shame on you.'
The Hunt Saboteurs Association, an organisation against fox hunting, also criticised the retailer for selling the outfit, saying it was 'poor judgement'.
'This appears to be remarkably poor judgement form Tesco. Fox hunting is an illegal, archaic pastime that's abhorred by the majority of the population', Lee Moon, a spokesperson for the Hunt Saboteurs Association, said.
'Why Tesco would think it's an appropriate fancy dress costume for children is quite beyond us. We look forward to seeing their badger baiting or dog fighting outfit in the near future.'
After the controversy, Tesco decided to remove the costume from sale. A spokesman for Tesco said: 'We've listened to customers and have immediately removed this product from sale.'