'Thank you for being honest' Tess Holliday praised for inspirational message for struggling new mums
It's not the first time the plus sized model has opened up about her struggles with mental health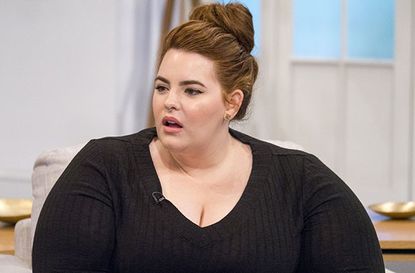 Model and mother of two Tess Holliday has used her social media platform to share an inspirational message for new mothers who are struggling during their child's early days.
Tess has built her career as a body-positive ambassador who champions all women, and her no-holds-barred approach to discussing her personal life has often resonated with her 1.4million followers.
Her most recent Instagram post shows her sat on a friend's sofa breastfeeding (opens in new tab) her youngest son Bowie, whilst her adorable French Bulldog looks on. She looks to be totally wrapped up in her own world, but things aren't as picture perfect as they seem.
'It's not #tbt technically, but I found this photo on my phone now from September and it gave me so many feels,' she captioned the image. 'This photo was taken at my dear friend's home during a dark time in my life.'
'I was an emotional mess + and struggling to find my way as a new mom again.'
However, Tess added that although she found the first few days of Bowie's life a challenge, she knows now that things can get better.
'Life is messy, love it complicated, & it can all feel so overwhelming but we grow & learn. I'm so grateful for my life and appreciate it all, even if I can't always see the light at the end... it's there. Promise,' Tess concluded - and it's her willpower and optimism that have really struck a chord with her followers.
Commenters were quick to congratulate Tess on her honesty, with many of them saying that they'd experienced similar feelings.
'I have loved following your journey with Bowie, I have a baby boy who is almost 8 months (my first) and some of your struggles have reflected my own,' one fan wrote. 'It's really good to know that it is hard for others too. Thank you for being here and being honest.'
This isn't the first time the plus-sized superstar has given a candid account of her struggle to adapt to motherhood and the effect it has on her mental health.
Back in February, she posted a close up shot (opens in new tab) of her make-up free face, with tears rolling down her cheeks, and admitted she had exceeded her limit and had been crying for hours.
'I hope one day that changes & society views mothers as the flawed human beings we are that are just trying to keep our shit together like everyone else,' she said at the time.