We earn a commission for products purchased through some links in this article.
A pediatrician's YouTube video has gone viral after claiming to hold the secret to stopping newborn babies from crying.
Dr Robert Hamilton has been a pediatrician for 30 years, and in that time has developed a trick called 'The Hold' – a specific way of holding a baby that 'is very helpful for calming children and keeping them quiet'. And now he's shared his knowledge with the world.
In the four-minute clip, Dr Robert explains the principles behind his technique, and then demonstrates it on two infants who have recently had injections. Unsurprisingly, they react like this:
But after the doctor puts them into the correct position and gently moves them up and down, they quickly quieten and become relaxed.
Dr Robert explains that there are four key stages to 'The Hold' technique:
Step 1: Fold the baby's arms across their chest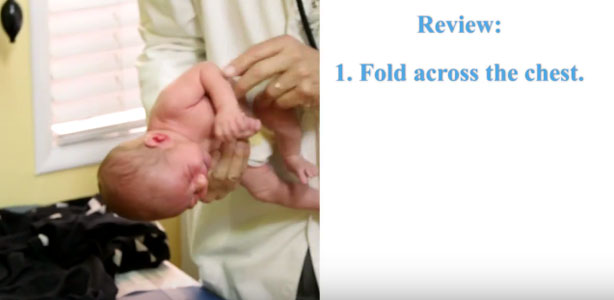 Step 2: Secure the arms gently
Step 3: Grasp the diaper area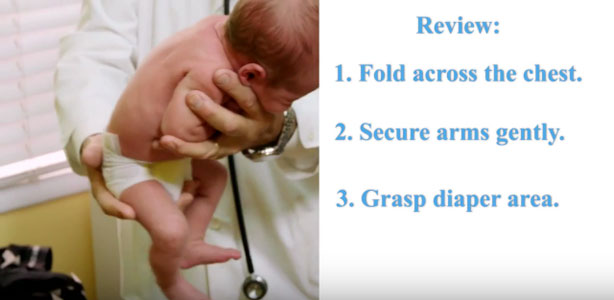 Step 4: Rock the baby at a 45-degree angle
Watch Dr Robert perform 'The Hold'
He adds that the movements should always be gentle, 'you don't want to jerky motions, ever', and that the 45-degree angle is important, because if you hold the baby upright their head can fall back.
Since it was posted on the 29th November, the video has had more than 5 million views, and thousands of comments from fascinated parents from around the world.
'As a guy who is about to be a father of twins in about 2 weeks this is like finding gold. Thank you!! I am sure I will be trying this out a ton! :)', one said, whilst another quipped, 'Can this method work with 35 years old?'
Have you tried Dr Robert's technique on your baby? Leave us a comment and let us know whether it worked!