The Modern Mother's Handbook: Would you try the parenting book Kate Middleton swears by?
60 minutes to read, a lifetime of parenting expertise to use.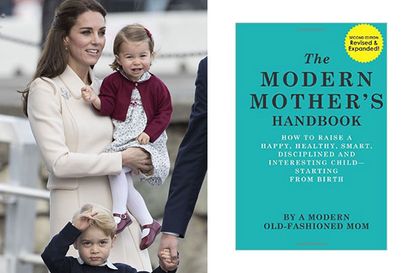 When a parenting book is recommended by a Duchess, you know you're onto a good thing.
It's for this reason that The Modern Mother's Handbook: How To Raise A Happy, Healthy, Smart, Disciplined and Interesting Child, Starting From Birth (try saying that after a couple of wines) has shot to popularity, after Kate Middleton reportedly sent a fan letter to the author of the title.
The writer of the little blue book, who has chosen to remain anonymous, told The Daily Mail: 'When word got out Kate had read and loved my Handbook, it drew a tremendous amount of interest.
'It's as if Kate gave it a stamp of approval. So many women look up to the Duchess that I guess they thought if it's good enough for her, it's good enough for me.
'Every time she steps out women all over the world love to see her with Prince George and Princess Charlotte. The Duchess is an extraordinary mom as she is both modern and old-fashioned because she's very hands on. I commend her for making it look easy while in a fishbowl, and dang does she dress those kids cute!'
And as if an endorsement from royalty wasn't enough, the book is packed with over 10 years of parenting knowledge, taking you from giving birth at the hospital to 'grade three and beyond'.
Advice is offered on everything from food do's and don'ts to playdate etiquette, as well as flagging up common mothering mistakes you should aim to avoid.
So far, so desirable - but what does it actually mean to be a 'Modern Mother'? Here are 5 things you need to know about the A-lister's favourite parenting guide:
1. It's quick to read
As the cover of the latest edition advertises, you can read The Modern Mother's Handbook from cover to cover in around 60 minutes - but that isn't to say that it skimps on content. It's simply written without waffle, with each section cut down into easy, bite size chunks like 'Sleep-Train Your Baby or Go Insane' and 'Get Out of Your Child's Way' - and you can dip in and out when you have a particular question with ease.
It's big on manners
'Teaching children good, old-fashioned values and morals is paramount to any young person's mental health,' the author explains. 'We often forget that the simplest, time-worn parenting methods - like writing thank-you cards and eating what's put in front of you - are the best.'
It's lighthearted...
One Amazon reviewer says: 'This book's tone feels like that of an older sister who had kids a few years before you did and no longer sweats the small stuff', and it's easy to see what they mean. The points are often tinged with elements of humour that remind you not to take parenting too seriously, and to enjoy your time with your child.
...but doesn't lose sight of what's important
Although the tone is light, the advice is responsible, and with sections dedicated to spending time alone with each child, fostering imagination and teaching thoughtfulness early, there's lots of references to not just keeping your kids alive, but helping them to become great people too.
It's no-nonsense
The author, a New-Yorker who used to work in fashion magazines, doesn't mince her words. The information is as much about you as it is your kids, as she gives relationship advice for you and your husband, and tips on how not to be 'that mom', and she's not shy about expressing a strong opinion. As she summarises herself: 'Good luck, have fun, and never forget that you're in charge!'
Have you read the Modern Mother's Handbook? Let us know in the comments below!
Trusted, informative, and empathetic – GoodTo is the ultimate online destination for mums. Established in 2007, our 15-year-strong archive of content includes more than 18,000 articles, 1,500 how-to videos, and 7,000 recipes.