This is why your second-born kid might be more naughty
But it might all be the firstborn's fault...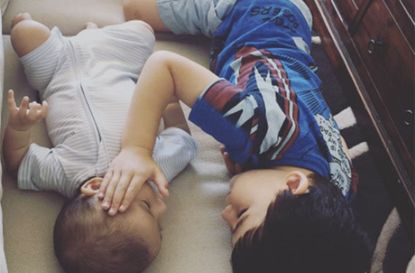 Generally speaking kids are usually a bit naughty from time to time, but new research has shown that if you have more than one child, the second-born might be the ones to watch.
A study has confirmed that second-born kids might be a much bigger handful than the first.
Data from thousands of sets of brothers in Denmark and the US was collected and researchers found that second-born children are 20-40% more likely to have to be disciplined at school or enter the criminal justice system.
John Doyle, the lead researcher of the study spoke to NPR and said: 'The results are remarkable.
'Second-born children, compared to their older siblings, are much more likely to end up in prison, much more likely to get suspended in school, [and much more likely to] enter juvenile delinquency.'
John also has a very intriguing theory that this 'bad' behaviour, could actually be the eldest sibling's fault, as the younger children might look up to them.
'The firstborn [child] has role models, who are adults. And the second, later-born children have role models who are slightly irrational two-year-olds, you know, their older siblings', he added.
The research also suggests that parents who take time out to care for their second-born kids are actually helping out the firstborns because they're spending more time with them, if they're still at home.
Add that to the early years when they're technically an only child before their siblings are born, when they obviously receive their parents' undivided attention.
But even if you are a second-born child, all is not lost. When speaking to Parents.com, therapist Meri Wallace said: 'You can consciously make a choice [to change your personality].'
These results aren't simply based on black-and-white facts either, and they are somewhat flawed.
The data only specifically concentrated on boys in Denmark and the US and didn't include girls whatsoever.
Did you find that your second child is naughtier than your firstborn? Let us know in the comments!