'Parents that don't push their children are simply lazy' This Morning's pushy parenting debate sparks HUGE controversy online
'This is why we have a whole generation of lazy kids'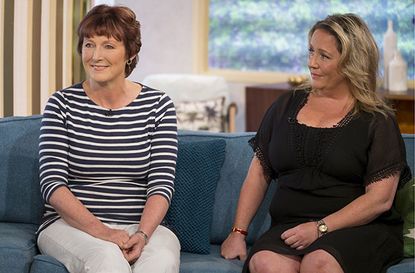 A debate on This Morning has sparked huge controversy online, as presenters Ruth Langsford and Eamonn Holmes asked if it's ever a good idea to be a 'pushy parent'.
Hooked on the recent discussion around the final episode of Channel 4's Child Genius (opens in new tab), where one parent was slammed for his attitude toward his son Rahul's success, the This Morning discussion asked two mums with very different approaches to parenting whether or not it was okay to 'force' their children into doing things.
Joined in the studio by 'self-confessed pushy mum' Sally Jones and mother-of-four Clare Muldoon, who places herself at the other end of the spectrum, their comments have drawn lots of debate on social media.
'When [my children] were growing up, I did all the pushing that I did because I wanted them to fulfil their potential, and have all the experiences they were able to have,' argued Sally.
'If I hadn't I think there would have been a lot more lolling in front of the telly. From [mine and my husbands] point of view, the odd scholarship here and there would help with the school fees.'
But relaxed mum Clare said that she believes we should be raising 'characters' not prodigues, and thinks there's a danger in pushy parents living vicariously through their children.
'My issue stems from people like Rahul's father and this toxicity at the school gate... trying to push their children in everything in school because everything is driven by SATs results. They're undermining the whole professionalism of teaching, children need to find their own level to work at.'
'I have four children who are very well adjusted,' she continued. 'I feel that they are equipped to deal with life because... they're accountable for themselves.'
The studio debate has inspired a more thorough one on social media, with hundreds wading in to offer their thoughts.
'Parents that don't push their children are simply lazy and this is why we have a whole generation of lazy kids,' declared one commenter. 'These lazy parents will make a whole host of excuses as to why they shouldn't push their children but the true reason is they can't be bother. It's no wonder that exams have to get easier every year.'
Another said: 'Surely you've got to be slightly pushy and encouraging otherwise they'll just be like you and no better! I'd rather encourage mine to take one step further than I did! But obviously within reason and don't go too far away from comfort zone.'
'I have 5 children and have never been a pushy parent,' wrote a third. 'I believe in letting kids be kids, we all want the best for our kids, no need to be pushy. Really can't stand pushy parents, let kids grow up and choose their own path in life.'
One more added: 'I prefer to encourage not push.......my wife had a pushy mother and the relationship between them was strained to say the least...'
What's your take - is it ever okay to be a 'pushy parent'? Let us know your thoughts in the comment section below!
Trusted, informative, and empathetic – GoodTo is the ultimate online destination for mums. Established in 2007, our 15-year-strong archive of content includes more than 18,000 articles, 1,500 how-to videos, and 7,000 recipes.