This Morning segment reuniting a school bully with his victim divides viewers
While some viewers called the story 'inspiring' others criticised the segment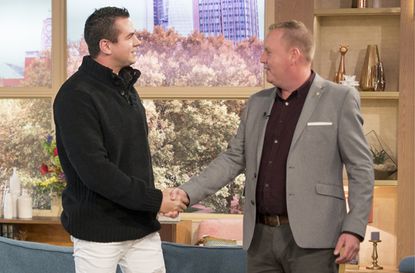 A segment on This Morning has split viewer opinions after reuniting a school bully with his victim.
Hosts Holly Willoughby and Phillip Schofield invited martial arts expert Matt Fiddes, who had built a successful multi-million pound career after being inspired to pursue his dreams after being bullied at school, on to the show.
They then shocked the audience by inviting his former bully to join him on the sofa, and talk about their days at school - and while some viewers called the segment 'inspiring&' and praised the show for sharing the story, others weren't so sure.
Matt was bullied for two years at school from the age of five, and said that the experience 'started a fire inside me' and made him want to achieve later in life.
Matt went on to be a successful international martial expert, and was even Michael Jackson's peronsal body guard for a decade. After his own experiences at school, Matt began martial arts schools, which he claims have now saved millions of children from bullying.
After sharing Matt's success story on the show, Holly and Phil left viewers gobsmacked when they invited his former bully, a man named Anthony, to join the conversation.
After shaking hands and sitting down next to each other, Anthony revealed that he didn't remember the bullying episodes Matt had recounted from his days at school when the boys were both just five years old. Anthony also confessed he was 'overwhelmed' when he heard Matt's side of the story.
The segment left social media users divided, with some praising the show for sharing Matt's 'inspiring story', while others questioned whether it was fair to lambast Anthony as a 'bully' when he was only five years old at the time.
'The (reformed) bully seemed very nervous in this interview!' wrote one viewer on Twitter, while another said: 'Do we really live in a country where 5 year old children are brandished as bullys?'
Another viewer agreed, adding: 'Should have brought his teen bully on who was old enough to know how cruel they were, not someone who bullied when they were 5.'
However, there were others who loved watching Matt and Anthony reunite. 'What a fantastic way to beat a bully - don't get mad OR even just live an amazingly successful life. Fair play to a brave guy!' tweeted one viewer.
Another said: 'I'm not sure I could ever forgive my bully but good on those guys for forgiving and doing such good with it after.'
After the show, Anthony joined Matt for a drink in a local pub, and Matt took to his official Facebook account to say he was 'proud' of Anthony for being brave enough to turn up on the show.
What do you think? Do you think it was wrong to make Anthony feel guilty for something he did as a young child? Or should we be held accountable for our actions as children, even as adults? Let us know your opinion in the comments below!
Trusted, informative, and empathetic – GoodTo is the ultimate online destination for mums. Established in 2007, our 15-year-strong archive of content includes more than 18,000 articles, 1,500 how-to videos, and 7,000 recipes.