Tommy's Midwives issue warning over pregnancy app that tells mothers that 'movements may diminish'
'It's not true that your baby moves less towards the end of pregnancy'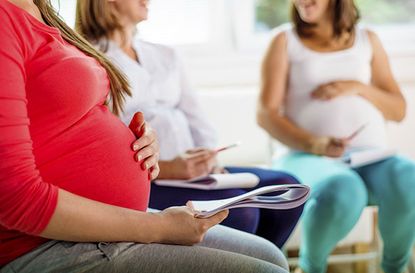 Tommy's Midwives have issued a stark warning to expectant mothers about the advice given in a popular pregnancy app.
The charity posted a picture of a screengrab of the Period Tracker app, which was sent to them by Twitter user Gemma George, to their Facebook page, explaining why the information presented was a cause for concern.
'Baby now measures around 15 inches in length, weighs just over 5 pounds and is plumping up nicely,' the app states in a post describing week 35 of a woman's pregnancy. 'As such, they are taking up most of the room in your uterus, so movements may diminish a little around now.'
However, agreeing with Gemma, who dubbed the info the app provides to be 'very dangerous', Tommy's said: 'We're disappointed to see false information on babies' movements on the Period Tracker app. It's not true that your baby moves less towards the end of pregnancy!
'If you notice any change in your baby's normal pattern of movements then you should contact your midwife or maternity unit immediately.'
https://www.facebook.com/havingahealthypregnancy/photos/a.545675952201540.1073741828.538022929633509/950643981704733/?type=3&theater
The organisation also posted a link to their #movementmatter campaign, which is supported by both NHS England and Kicks Count, to offer any mums who might be concerned about their fetal movement further support.
'A baby moving during pregnancy can be anything from a flutter, kick, swish or roll and these are a sign that baby is well,' the page reads. 'When a baby is unwell, they may conserve energy by slowing down their movements. This can be the first sign of a problem.
'55% of women who had a stillbirth noticed their baby's movements had slowed down or stopped but hadn't reported it.
'If this symptom is reported promptly there is a window of opportunity in which the baby's life may be saved. We want our campaign to raise awareness of the importance of fetal movements across the UK.'
The NHS currently advises that women will usually start to feel movement between weeks 16 and 20 of their pregnancy, although it can sometimes be later, and that these movements tend to increase until about 32 weeks, when they remain at the same level.
'The type of movement may change as you get nearer to your due date,' they advise. 'You should continue to feel your baby move up to and during labour.
'If you notice your baby is moving less than usual, or if you've noticed a change in the pattern of movements, it may be the first sign that your baby is unwell. You should contact your midwife or local maternity unit immediately so your baby's wellbeing can be assessed.
'There's no specific number of movements that's considered to be normal. What's important is noticing and telling your midwife about any reduction or change in your baby's normal movements.'
Trusted, informative, and empathetic – GoodTo is the ultimate online destination for mums. Established in 2007, our 15-year-strong archive of content includes more than 18,000 articles, 1,500 how-to videos, and 7,000 recipes.