Victoria Beckham accused of 'conditioning' daughter Harper to believe in 'gender stereotypes'
Victoria Beckham has come under fire from fans who have accused the former singer and fashion designer of 'gender stereotyping'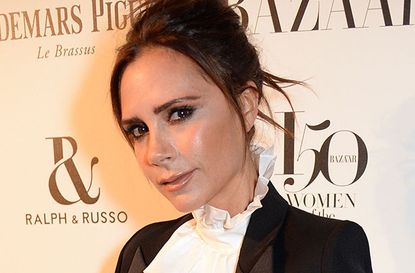 Victoria Beckham has come under fire from fans who have accused the former singer and fashion designer of 'gender stereotyping' after she posted a photo of a sweet picture coloured in by her daughter Harper.
The mother-of-four took to Instagram to share the snap of a picture that Harper had coloured after the mum and daughter duo spent the day with a freelance illustrator in London.
Victoria captioned the photo, 'Mummy and Harper having so much fun with @tatianaalida_illustration X kisses VB'
Not all of Victoria's fans were impressed with the innocent drawing decorated by Harper. In the middle of the six-year-old' illustrations was a classic poem, which some of the star's followers accused of 'reinforcing gender stereotypes.'
The nursery rhyme, which dates back to the early 19th century, describes boys as made of 'slugs, snails and puppy dog tails', while 'girls are made of sugar and spice and all things nice.'
Those who took offence to the poem accused Victoria of 'conditioning' Harper to believe in gender stereotypes.
'Not a cool poem. This is where conditioning begins. I've always hated this poem,' wrote one angry, with another adding: 'I don't think gender stereotyping is a positive thing.'
'Do you think that reinforcing gender stereotypes is fun?' another asked.
'Ugh. 'Sugar and spice and all things nice' is not girl power, it's gender stereotyping and cultural rules that are telling girls what they are 'supposed' to be,' one of Victoria's followers said.
'So girls shouldn't be mischievous or act out, cause they are supposed to be sweet and nice. But it is ok for boys to do that because that is how they are born. It is c**p and we really need to move away from such stereotypes that are harmful for our girls.'
Amongst the negative comments, there were also many praising the working mum-of-four for carving out precious hours to spend quality time with her young daughter.
'So precious to see even though you both have such busy lives you always take time for your babies,' commented one fan. 'So sweet! Mummy daughter time is the best,' added another.
Other fans claimed that Harper's drawings were proof that they youngest member of the Beckham family was destined to follow in her mother's fashionable footsteps.
'Think she's going to be a fashion designer like her Mum,' said one, with another agreeing: 'Like mother like daughter... a future designer is coming!'
What do you think? Are traditional poems such as this one at risk of reinforcing gender stereotypes for children? Or are they harmless in this context? Let us know your thoughts in the comments below.