Outraged parents support Victoria Beckham by sharing pics of themselves kissing their children
Why is this picture causing such controversy?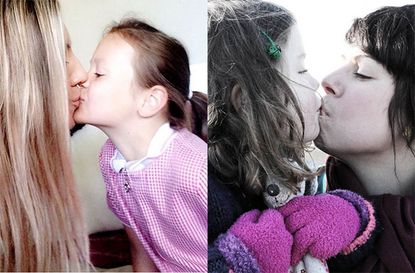 Parents have leapt to Victoria Beckham's defence by sharing their own photos of themselves kissing their children on the lips, after a picture she posted of herself kissing Harper was slammed.
Victoria's photo, which the mum-of-four originally shared to celebrate her daughter's fifth birthday, was criticised by many of her followers, with some saying it's 'weird' that the mother and daughter are kissing on the lips.
However, fellow mums have since taken to social media to support Victoria and show how lovely it is to be able to kiss your child.
One mother posted: 'A mothers love is unbreakable! I will never stop kissing this little man, even when he finds it embarrassing around his friends or when he's trying to break free to pose for his selfie. That bond can never be broken! I'm with you Vic.'
Another said: 'I find it deeply upsetting that people are now being abused for publicly showing their child love and affection. I will never ever stop showering my child with affection, they are a precious gift and one that should be treasured every day.'
The picture was originally posted by Victoria with the caption: 'Happy Birthday baby girl 🙏🏻💕 We all love you so much 💜💜💜 X @davidbeckham @brooklynbeckham kisses from mummy X'
Many of her Instagram followers were quick to criticise the mum for the snap, making comments such as 'inappropriate' and 'so lesbian'. It then erupted into a debate, with one follower posting: 'Why are you kissing your daughter on the mouth?'
Many of her fans defended the mother of four at the time, telling the online trolls to 'unfollow' if they didn't like the photo. Others went on to show how they felt about the negative comments, with one follower saying: 'How very sad society has become. It's one thing to have an opinion, but to feel disgust over a mother and daughters open display of love and affection is frankly worrying.'
After posting the picture to GoodtoKnow's Facebook (opens in new tab) page, many of you were shocked that such a photo could cause so much controversy. One Facebook user wrote: 'Is this a joke? Wrong to kiss your own child? For Gods sake - has the world gone totally mad? and I happily kiss my 5 year old on the lips and will continue to do so until she decides she doesn't want me to! It's mother and daughter affection, nothing 'wrong' about it!!'
Another added: 'Ridiculous !! There's something wrong with the way of thinking from people who think it's wrong to kiss you're child on the lips.. we'll be having to get permission to show affection to our kids before long!! I k8sd my 4 yr old son on the lips, so what does that make those of us who do!!'
https://www.facebook.com/goodtoknow.co.uk/photos/a.178090460580.255935.166801005580/10157174163205581/?type=3&theater
Earlier this year a controversial claim came from Dr Charlotte Reznick, author of 'The Power of your Child's Imagination: How to Transform Stress and Anxiety into Joy and Success' around how kissing on the lips with your children shouldn't be allowed.
She said: 'If mummy kisses daddy on the mouth and vice versa, what does that mean when I, a little girl or boy, kiss my parents on the mouth? If I had to answer when to stop kissing your kids on the lips, it would be now'.
Recently Sam Faiers' boyfriend Paul Knightley also came under fire for kissing his mum on the lips in their baby documentary, The Baby Diaries. One Twitter user at the time said: 'Imagine falling in love with someone and finding out they kiss their mum like Sam Faiers boyfriend does with his.'
[apester]57838018eaef76d524a088d7[/apester]
Sarah is a freelance journalist, writing for various women's magazines and national online consumer titles including the BBC and The Daily Mail, for over 10 years. Sarah has interviewed CEO's, real-life case studies and celebrities. Writing on everything from travel to fitness, and business to beauty - some of her features have been read by millions of people - in just one day.