What to do if your teenage daughter is pregnant
Worried about teenage pregnancy? We explain the options for your daughter if she's pregnant - including keeping the baby, abortion and adoption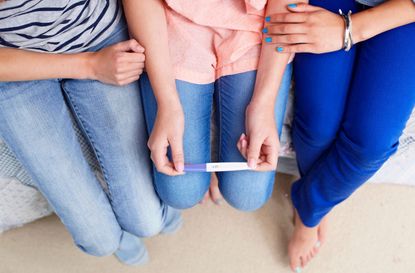 'Mum, I think I might be pregnant!' - How would you respond if your daughter came out with this sentence?
The rate of pregnancies in girls under the age of 18 has fallen by 55 per cent since 1998 according to recent studies. At one point, Britain had the highest number of teenage pregnancies in Europe, but what would you do if it was your daughter?
If you're in need of some advice you've come to the right place as we outline all the options when it comes to how to handle the situation. The most important thing is to keep calm and be as supportive as possible, whatever your daughter decides to do.
By Anita Naik
What if your daughter is pregnant?
Many teenagers think getting pregnant is something that will never happen to them. Yet an unplanned pregnancy is likely to happen within a year if your daughter is having unprotected sex on a regular basis and/or is haphazard about using contraception.
Do the test
If your daughter is worried she's pregnant the first thing to look for is a late period. She may also notice: * a feeling of nausea (all day not just in the mornings) * sore breasts To find out for sure, it's vital that she does a pregnancy test. For a free and confidential test she can go to a Brook Advisory clinic (www.brook.org.uk) or a family planning clinic (www.fpa.org.uk) or her GP.
A test must be taken once the period is late, because it works by detecting pregnancy hormones in urine. If a test shows up as negative and the period still doesn't come, do another test, because the first test may have been taken too early.
Take a look at our Are you pregnant? feature for more symptoms.
What to take if you go to clinic/doctor
All your daughter needs to take with her is the date of her last period. At the clinic/GP she'll be asked to provide a urine sample.
What are the choices?
If she is pregnant, your daughter will be asked what she wants to do and offered information on keeping the baby, abortion and adoption.
Who can your daughter talk to?
As every parent knows, teenagers don't always want to talk to their parents first, so if your daughter wants help and advice she can contact a counsellor at Brook Advisory Centres, or the British Pregnancy Advisory Service. Your daughter can also get advice from her GP, a contraception or sexual health clinic or call the NHS 111 line which is open ever day all day.
How should you talk to her?
Telling your parents that you are pregnant is the number one teenage fear and, while your daughter can make a decision about her pregnancy without your consent, most doctors/counsellors will try to persuade a girl to seek support from her parents.
When she does talk to you remember it's your reaction that she fears the most, so hard as it is try to offer her support and understanding.
What are the options?
So your daughter's done the test and she really is pregnant. What are her options? Find out more...
Keeping the baby
If your daughter chooses to keep her baby don't panic, a variety of help is open to her from midwives to health visitors to social workers.
For more help and advice, speak to her GP and contact Brook Advisory Centres.
Adoption
If your daughter decides adoption is what she wants, she needs to contact the BAAF (British Association for Adoption and Fostering www.baaf.org.uk) and they will also put her in contact with an adoption agency and counsel her.
Adoption is a long process so be prepared for her to spend months worrying about whether she's making the right decision.
Post birth the baby may be looked after by foster parents (temporary carers) or go straight to the adoptive parents. A social worker will then make regular visits to see the baby to check everything is going well and then after six weeks the adoptive parents can make an application to the court to legally adopt the baby. However, everyone is aware how difficult this process can be.
It's important to take the following into account:
* If your daughter changes her mind before her baby is placed with adopters she can ask for the baby's immediate return. * If she changes her mind after the baby has been placed with adopters but before they have made an application to the court the baby would also be returned. * Even after she has given her agreement to the court she can still change her mind. However, the court will have to be convinced that it is in the child's best interests to be returned to her. * However, once the court has finalized the adoption order, she will no longer be able to ask for her baby back.
What are the options? Abortion
Abortion
Abortion is another hard option, which is why it has to be your daughter's choice, even if you feel strongly one way or another. To help her make the right decision make sure she speaks to a fair and impartial counsellor from an organisation such as the BPAS.
An abortion or termination (as it is sometimes known) is a surgical or medical procedure that ends a pregnancy. Abortions are legal up to 24 weeks but more than 87% take place within the first 12 weeks of pregnancy.
For it to happen: * An abortion must be agreed by two doctors and carried out by a doctor in a hospital or clinic. * First approval can come from a doctor at a family planning or young person's clinic like Brook, and most GPs will also refer for abortion. The second approval is normally given by the doctor performing the abortion. * If your daughter does not want to have an abortion through the National Health Service, you can choose to pay for one at an independent abortion clinic - such as BPAS or Marie Stopes.
What methods are used for abortion?
A surgical abortion This is the most widely used method and is also known as vacuum aspiration - where the contents of the uterus are gently sucked away through a tube. The procedure takes about ten minutes, though you usually need to be at the clinic anywhere from 2 to 6 hours for recovery. Early medical abortion/Abortion pill This method is usually used up to 9 weeks into pregnancy, and is known medically as mifepristone (previously RU 486). It works by taking two pills 48 hours apart, which break down the lining of the uterus (womb) so the embryo is released in a miscarriage.
Can she undergo an abortion without telling me?
Girls (even under the age of 16) can consent to an abortion if two doctors agree that she is mature enough to make the decision. However, girls are always encouraged to involve parents as an abortion is a difficult thing to go through on your own.
If your daughter decides that telling you is not in her best interests, she will be asked to bring another appropriate adult (relative, friend's mother or older friend) for support, both during and after the procedure so she is well looked after.
Trusted, informative, and empathetic – GoodTo is the ultimate online destination for mums. Established in 2007, our 15-year-strong archive of content includes more than 18,000 articles, 1,500 how-to videos, and 7,000 recipes.