How to make: three ingredient chocolate mousse
Follow our how to make chocolate mousse recipe for rich, light and delicious chocolate mousse for dessert - the whole family will love them!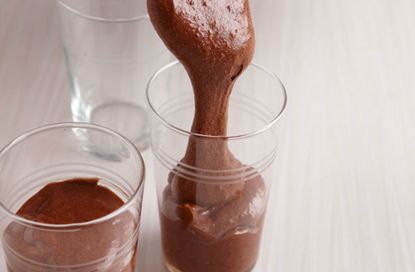 (Image credit: Future)
Learn how to make classic chocolate mousse with our simple step-by-step chocolate mousse recipe.
We can all agree that chocolate mousse is delicious, but it can sometimes seem like a tricky, time-consuming thing to make. That's why we have come up with this super-simple, three-ingredient recipe for an elegant, classic chocolate mousse that is perfect for dinner parties, or even just moments of indulgence!
Combining dark chocolate with caster sugar and eggs is what makes this rich chocolate mousse recipe so delectable - you'll like it even better than your favourite chocolate cake (opens in new tab)! This recipe makes four mousses which only take about 20 mins to rustle up and can be left in the fridge until they are set.
If you're serving this chocolate mousse recipe for friends and family, make them in advance so they have enough time to set. They can be made the night before, which makes for a stress-free day of entertaining! You can serve them as they are, with sprinkling of fruit, or topped with whipped cream and chocolate sprinkles for a fun, kid-friendly finish.
To make such a moreish and light mousse texture, this recipe separates the egg whites and yolks, whisking the egg whites into soft peaks and folding into the mixture. Be careful not to stir in the egg whites too much, they need to be gently folded in to ensure the air isn't beaten out.
This chocolate mousse recipe would be a great treat for Valentine's Day or a naughty weekend dessert. Triple-tested in our kitchen, we can guarantee this recipe will produce perfect results, every time.
Ingredients
100g bar dark chocolate (or if making for kids, use milk chocolate), broken into pieces
50g caster sugar
2 large eggs, separated
For more indulgence, check out our recipe for chocolate gateau (opens in new tab). Or, if you are in need of a post-mousse health kick, scroll through our list of 54 healthy family meals (opens in new tab).
Step 1
Put the chocolate in a bowl and add 2 tbsps water. Place the bowl over a pan of just simmering water until the chocolate in the bowl melts, stirring it occasionally.



Step 2
Remove the bowl from the heat and beat in the egg yolks.


Step 3
Whisk the egg whites until stiff, and then gradually whisk in the caster sugar to make a meringue.



Step 4
Fold about a third of the meringue into the chocolate mixture using a large metal spoon, to loosen it.



Step 5
Pour the chocolate mixture into the remaining meringue and fold it together.


Step 6
Divide this between serving glasses and chill the mousse until it's set. The mousses may be made a day in advance of serving.