50 healthy family meals
Give your midweek meals a healthy spin. Think shakshuka, ramen, and even curry - this roundup of healthy family meals is sure to inspire…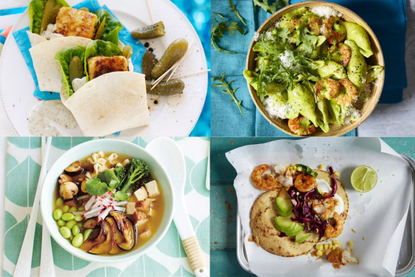 (Image credit: Future)
From Tom Kerridge's butternut squash pasta bake to the Hairy Bikers' Spanish-style chicken, we've got lots of healthy family meals to choose from.
"A healthy meal should be a good balance between the three macronutrients – protein, carbohydrate, and fats – with a generous helping of rainbow-coloured foods alongside," says nutritionist Alexandra Allan. "Unless you're vegan, make fish, poultry, and eggs your main sources of protein, and eat lean red meat, bacon, and other processed meats only occasionally. Pulses (lentils, beans, chickpeas), nuts, and seeds are good sources of vegetable protein. Protein should form at least ¼ of your plate – it gives you your essential building blocks, but it will also help you feel fuller for longer."
As well as protein, Alexandra suggests that a quarter of your plate should be formed of complex carbohydrates such as sweet potato, squash, rice, and quinoa. "Think root vegetables and whole grains. Limit refined grains such as white pasta and bread, as these can affect the body in a similar way to sugar," she explains. "For fats, use olive oil as your everyday fat for both cooking and seasoning and butter in moderation. Avoid margarine and trans fats, as these can be inflammatory. Don't forget to add raw nuts, seeds, and avocados to ensure you get your daily dose of healthy fats, and aim for two portions of oily fish (eg, salmon, mackerel, tuna, sardines) every week. Not only are these great for your brain, skin, and eyes, but including fats will help you absorb the fat-soluble vitamins D, A, E, and K."
Finally, half your plate should be made up of a wonderful array of brightly coloured veg – which will easily help you to your 5-a-day (or 10-a-day if you want optimal health). "Including a wide array of fruits and vegetables from an early age can help familiarise babies and young children with the different flavours and textures. And don't give up! If you provide many repeated exposures to a food (sometimes 8-15 times) this can help enhance acceptance of the food," adds Alexandra.
Healthy family meals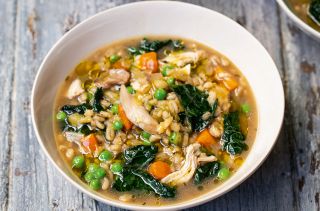 1. Tom Kerridge's chicken pearl barley soup
Calories: 814 | Fat: 48.4g | Sugar: 12.1g | Salt: 3.3g | Five-a-day count: 3-4 portions
You'd be hard pushed to find a more nutrient-packed, healthy meal than this one from the Michelin-starred chef. Crammed with vegetables – carrots, celery, courgette, cavolo nero, and leeks all feature – and plenty of protein from the chicken, it's a wholesome food hug.
The pearl barley gives it a bite and will leave everyone feeling fuller for longer, ideal when watching the pennies and wanting your meals to go further, while the porcini mushrooms add depth of flavour. Kids love Parmesan, so a generous grating on top will be not only tasty, but add calcium and more protein to your soup.
Get the recipe: Tom Kerridge's chicken pearl barley soup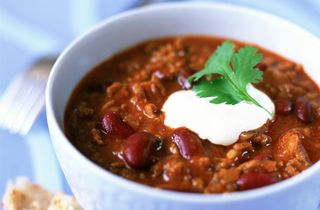 2. Classic chilli con carne
Calories: 784 | Fat: 8g | Sugar: 32.5g | Five-a-day count: 2 portions
"Iron-rich red meat paired with fibre-rich kidney beans, this is a nutrient-dense meal. Plus, it's a great one to batch cook," says Alexandra. The green peppers, onions, and chopped toms provide the vits, and the chillies and garlic both give a nutrient boost and have antioxidant qualities, too. There's also a protein punch from the kidney beans and the minced beef (which can be swapped for Quorn mince or removed all together and veggies like butternut squash and sweet potato added in for bulk, taste, and even more nutrients). Leave out the wine and cut down on the chilli content for the kids, should you wish.
Get the recipe: Chilli con carne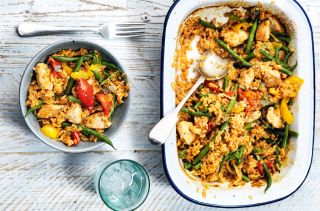 3. Cajun chicken
Calories: 300 | Fat: 2.8g | Sugar: 7.5g | Salt: 2.2g | Five-a-day count: 2 portions
When cooking for all the family, you've got to love a one-pot wonder to save on the faff of washing up. This cajun chicken also takes just 15 minutes to prep and brings two of our favourite food friends, chicken and rice, together for a balanced meal that is low in unhealthy, saturated fats.
Green beans, red and yellow peppers, onions, and garlic add a variety of vitamins and an appealing colour palette. And each tender cut of chicken is infused with cajun spice, so every bite is bursting with flavour. Swap the cooking spray for extra virgin olive oil if you're not watching the calories and want to add a dose of healthy fats and antioxidants.
Get the recipe: Cajun chicken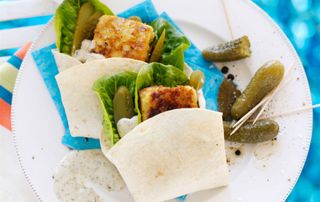 4. Fish wraps
Calories: 415 | Fat: 13.8g | Sugar: 5.6g | Salt: 0.6g | Five-a-day count: 1 portion
A healthier take on a burger, this fish burger is wrapped up with plenty of fresh salad and a tasty gherkin. Using wraps rather than burger buns makes them lighter and healthier but they still taste great. There's a good lean protein hit from the white fish and because you make the breadcrumb coating yourself (a great way to avoid the food waste of stale bread), there are none of the lurking additives you might find in shop-bought versions.
Get the recipe: Fish wraps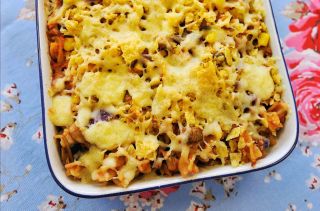 5. Tuna pasta bake
Calories: 415 | Fat: 13.8g | Sugar: 5.6g | Salt: 0.6g | Five-a-day count: 1 portion
Veggie packed with sweetcorn, mushrooms and tinned toms, tuna pasta bake is a firm family favourite that uses store cupboard staples such as pasta and tinned tuna. Excellent for a simple mid-week dinner, protein-rich tuna is good for an omega-3 hit, while the carbohydrates in the pasta will help with an energy boost after a hectic day.
Get the recipe: Tuna pasta bake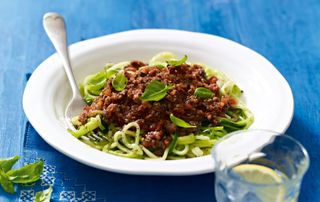 6. Mushroom ragu with courgetti
Calories: 125 | Fat: 2.9g | Sugar: 9.5g | Salt: 0.6g | Five-a-day count: 2 portions
Meat-free mushroom ragu is quick to prepare, and a marvellous choice if you're cutting down on meat to help both your pockets and the planet. Mushrooms are rich in B vitamins and you can use whatever varieties you fancy, mixed in with the usual ragu veggies like carrots, celery and onions.
Instead of pasta, we've snuck in extra veg in the form of courgetti, or courgette ribbons but, if your kids would rather carb load and swap it out for spaghetti, then that is also absolutely fine. Sprinkle some fresh basil or oregano on top for a spot of greenery and grate over some Parmesan.
Get the recipe: Mushroom ragu with courgetti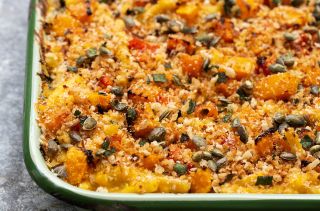 7. Tom Kerridge's butternut squash pasta bake
Calories: 729| Fat: 29.2g | Sugar: 18.3g | Salt: 1.24g | Five-a-day count: 2 portions
Tom's comforting butternut squash pasta bake sneaks in a ton of veggies that your kids won't even notice, and it's super creamy and delicious, thanks to bold flavours like sundried tomatoes, sage, Parmesan, and nutmeg. The bake features layers of macaroni pasta, soft butternut squash, and heaps of cheese.
The pumpkin seeds don't just give a crunch, they pack a nutritional punch (yes, we are fine poets), with magnesium, vitamins, fatty acids, and protein among their many benefits.
Get the recipe: Tom Kerridge's butternut squash pasta bake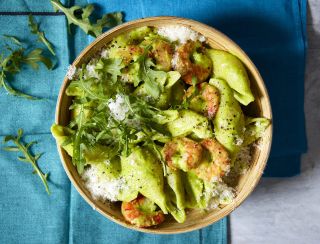 8. Tarragon pesto pasta with peas and prawns
Calories: 578 | Fat: 35.5g | Five-a-day count: 1 portion
A twist on the classic pesto, this recipe swaps basil for tarragon, a punchy herb that works wonderfully with seafood (and chicken, if you wanted to swap out the prawns for strips of grilled or stir-fried protein-rich chicken breast). The peas provide the vitamins, as does the tarragon, as well as magnesium, potassium and iron. It's super simple, too, and all done in two easy steps, ideal after a hectic day at the coal face.
Get the recipe: Tarragon pesto pasta with peas and prawns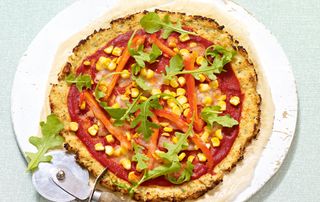 9. Cauliflower pizza
Calories: 213 | Fat: 11g | Five-a-day count: 2-3 portions
A good one for cutting down on the carbs and upping your veg quota and perfect for any family members with gluten intolerance, this delicious pizza is made from cauliflower. The standard pizza base is swapped for one made from cauliflower blitzed with egg, Parmesan, and oregano (which, frankly sounds far tastier than bread, to us). A great way to eat an extra portion of veg on what isn't usually the healthiest dinner, this recipe is topped with sweetcorn and peppers, but feel free to mix and match – mushrooms, olives, artichokes, courgettes, and even chargrilled broccoli are all winners, and, you could also add some lean ham or pepperoni if you're feeling particularly carnivorous.
Get the recipe: Cauliflower pizza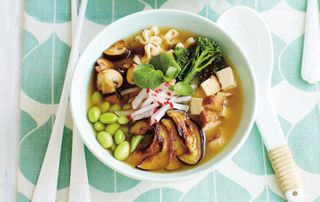 10. Ramen soup
Calories: 203 | Fat: 9g | Five-a-day count: 3 portions
"Full of gorgeous anti-inflammatory ingredients such as ginger and garlic, this soup is easy to make and can be adapted to include whatever veg you have left over in your crisper drawer. Plus, this makes a super healthy veggie meal for meat-free Mondays," says Alexandra. A good ramen is life-giving stuff. A Japanese staple (and they know a thing or two about health, having the world's oldest population), it's way more than 'just' a soup.
Bursting with veg like Tenderstem broccoli, mushrooms, aubergine, ginger, soy sauce, and miso make this soup extra flavoursome. This recipe is totally vegan, providing protein through the tofu and soya beans, but if that doesn't suit the family pallet, try shredded chicken or pork, or some seafood or salmon instead. A sliced hard-boiled egg is another good addition to a protein hit. The sliced radishes and watercress on the top add not only colour and visual appeal but also another one of your 5 a day (you could up it even further with shredded carrot and spring onion).
Get the recipe: Ramen soup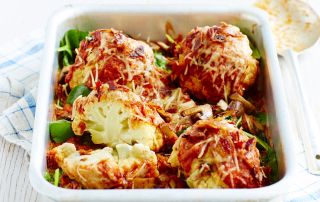 11. Mini roasted cauliflowers with tomato sauce
Calories: 243 | Fat: 15.7g | Sugar: 10.8g | Salt: 0.4g | Five-a-day count: 3 portions
Cauliflowers are definitely having their moment in the sun recently, taking their rightful place in centre stage. No longer just a slightly soggy side dish, these mini roasted cauliflowers with simple tomato sauce are so easy to make and a fantastic way to get more vegetables into your family dinner.
This recipe includes pancetta, which you can leave out to make it meat-free, a flavour punch from the joys of a bottle of Worcestershire sauce, and extra veg in the form of carrots and baby spinach. Serve with some crusty bread for carbs, should you feel the need, or even as a side with some grilled meat – a lamb steak would work well.
Get the recipe: Mini roasted cauliflowers with tomato sauce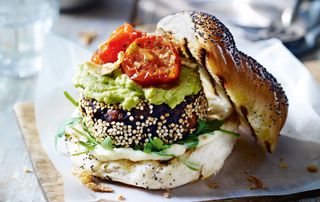 12. Vegan burgers
Calories: 637 | Fat: 27g | Five-a-day count: 3 portions
Far more nutrient dense than a plain old beef burger, these vegan patties are made with beetroot, sweet potato, and mixed grains and coated in quinoa for a crunchy texture. Topped with uber-healthy avocado, rocket, and vegan mayo, any of these toppings could be switched to appeal more to a kid's palate – a dollop of ketchup and some grilled cheese might persuade them to partake, after all. Serve with homemade chips or up the veggies even more with sweet potato fries.
Get the recipe: Vegan burgers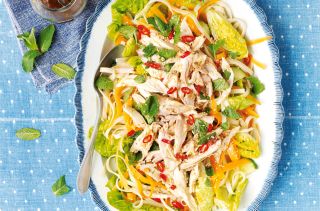 13. Chicken fusion salad
Calories: 417| Fat: 20g | Five-a-day count: 2 portions
A brilliant way to use up leftover chicken for your roast is this fresh salad with vegetable strips and a little ginger and chill for extra flavour. Your healthy carbs are here in the form of rice noodles and carrots and cucumber, as well as some zingy fresh mint all play their part in this vibrant salad. Drizzle with a homemade dressing made from ginger, red chillies, sesame oil, and red wine vinegar, omitting the chillies (or making two separate bowls of dressing) for the kids.
Get the recipe: Chicken fusion salad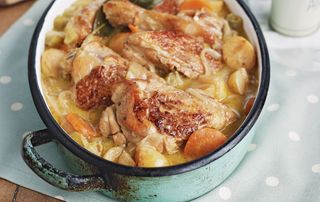 14. Chicken casserole
Calories: 858 | Fat: 54.8g | Sugar: 3.9g | Salt: 2.6g | Five-a-day count: 2 portions
"This is a recipe that every family should be making as it's an excellent way to include sweet root vegetables for the children," says Alexandra. It's not a low-fat option, thanks to the additions of double cream, streaky bacon, and butter, but it's a warming, comforting dinner that is packed with protein and vitamins, featuring a large, jointed chicken and lots of veg, including carrots, mushrooms, and celery.
This one-pot wonder should have plenty of leftovers that can be frozen for another day. Perfect served with a side of beans, spinach, or broccoli to get your family greens in.
Get the recipe: Chicken casserole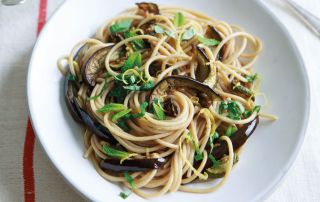 15. Whole wheat spaghetti with roasted veg
Calories: 379 | Fat: 11.7g | Sugar: 6g | Salt: 0.01g | Five-a-day count: 2 portions
Our whole wheat spaghetti with roasted veg serves six and is ready on the table in just 20 minutes. Courgettes, aubergines, and spaghetti (other pasta types are, of course, available to you) are infused with lemons, basil, and mint for a tasty, nutritious dinner with just a few ingredients. Don't be shy with the olive oil on this one, and a healthy coverage of Parmesan on top would be most welcomed.
Get the recipe: Whole wheat spaghetti with roasted veg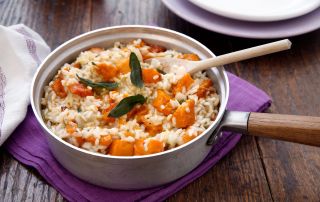 16. Butternut squash and sage risotto
Calories: 320 | Fat: 13.4g | Sugar: 1.8g | Salt: 0.45g | Five-a-day count: 1 portion
Fresh sage is a great friend to the creamy flavour of the butternut squash in this simple risotto. Half of the squash is blitzed and mixed in with the rice so, if you have kids who are fussy with their veg, they won't even know it's there. You can always add white wine as well as stock during the cooking and stirring (a lot of stirring) process for more flavour if the kids decline your recipe choice, and we don't think a risotto is a risotto without a heap of salty Parmesan stirred through. Butternut squash is high in potassium, vitamins C and E and magnesium, so always a winning choice (and any leftovers can be added to a soup or roasted).
Get the recipe: Butternut squash risotto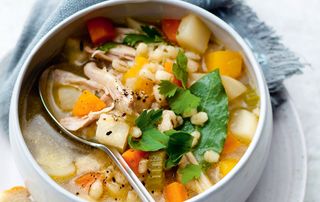 17. Hearty root and barley soup
Calories: 259 | Fat: 1.6g | Five-a-day count: 3 portions
Packed with veggies and chicken, this hearty root and barley soup is the perfect recipe for getting the whole family to eat well. Use any mix of root veggies – carrot, turnip, swede, parsnip, and celeriac all work well, and you could also try those that grow well in the summer months, such as beetroot. Simple and filling for when you don't need anything fancy, just good, honest, hearty fayre. A hunk of wholemeal bread would go lovely, though the pearl barley makes this soup a meal in itself.
Get the recipe: Hearty root and barley soup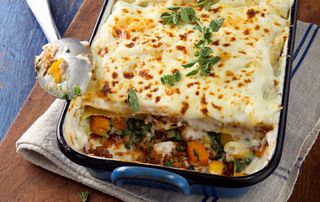 18. Quorn, squash and spinach lasagne
Calories: 510 | Fat: 20g | Sugar: 23g | Salt: 0.2g | Five-a-day count: 2 portions
A riff on a traditional lasagne, this one is meat-free and vegetable-packed and has some clever ingredient hacks (a large dollop of tomato and chilli chutney in the mix, anyone?). The butternut squash ups the nutrient quota far beyond that of a regular lasagne, and the frozen spinach and chopped tomatoes also add vitamins. It's mostly made from store cupboard ingredients too, though it would be perfectly served with a green salad on the side.
Get the recipe: Quorn, squash and spinach lasagne