Snowman cake pop decorations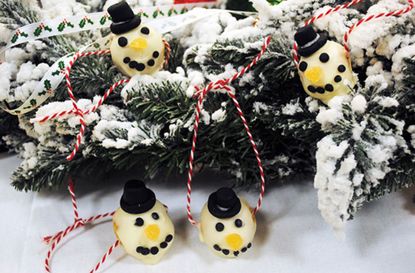 (Image credit: Future)
These sweet snowman cake pops are really simple to make and make a perfect Christmas decoration. They also require no baking, if you use ready made cake, so they're perfect to make with the kids - they'll just love giving each pop a different facial expression!
Come and see more of our creative and edible Christmas tree decorations here!
Ingredients
1 madiera cake
1-2tbsp butter
2-4tbsp icing sugar
1 bag of white candy melts
Ready-to-roll black icing
Handful of orange Jelly Tots
Step 1
Cover the wooden/plastic board with greaseproof paper and leave to one side. In a large mixing bowl, break the madiera cake down into crumbs using your finger tips.

In a seperate bowl add the butter and icing sugar and smooth into a paste. Add a little of the paste to the crumb mix and beat together. The trick is to add a little at a time so your mixture isn't too dry or too wet.

Once it reaches a dough like consistancy, stop. Pop the cake pop mixture into cling film and leave in the fridge to set for 1hr.

Once set, break into golf ball-sized pieces and roll in your hands. Pop them onto your board covered in greaseproof paper and pop in the fridge to cool for up to 30 mins.


Step 2
Once your cake pops have set, poke the middle of each ball with a cocktail stick and thread through your chosen ribbon or string (the thiner, the better).


Meanwhile, melt the candy melts by following the packet instructions. Dip each ball of cake into the candy melt mixture, holiding on to either end of the string as you do. The candy melts should set pretty quickly but if not pop back into the fridge until set.
Step 3
Make the snowmans hat by rolling up a pea-sized piece of the black fondant with your finger tips and rolling out a small disk of the black fondant. Put the ball onto the disk and press down to make the hat.


To make the nose, cut an orange Jelly Tot in half. Secure the hat and the nose down by using a little of the candy melts.
Step 4
Make the eyes and mouths by using some of the black ready-to-roll icing and attach with a dab of candy melt. Leave to set for 10 mins in the fridge.


Step 5
Your snowman cake pop decorations are now ready to be placed on the tree. You could also pop them in a cellophane bag and give as a food gift too.


Victoria Threader is 'the queen of cupcakes' and a contributing Recipe Writer at GoodTo. Not only can she bake delicious cupcakes, she can decorate them too - with each of Victoria's cupcakes topped with handmade edible toppers. Some of her most popular cupcakes include: rainbow cupcakes, hidden shape cupcakes and even giant cupcakes.