Acne sufferers go wild for £6 charcoal soap that can apparently clear skin in just SEVEN days
'This stuff is amazing!'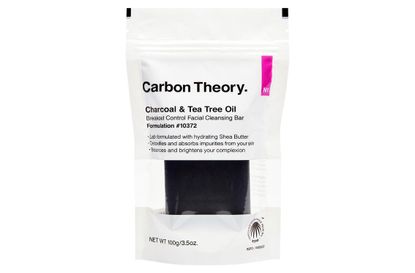 We've all heard of the so-called benefits of charcoal face masks.
But now those with troubled skin are praising a £6 bar of soap they've dubbed a 'miracle' product – claiming it can clear up acne-prone skin in as little as seven days.
Carbon Theory, made by a London-based start-up, has been a sell-out after winning over fans on social media, with many sharing images of their transformed skin after only using the soap for a matter of weeks.
According to its makers, the soap 'contains premium natural ingredients dermatologically proven to prevent breakouts and keep your skin looking balanced, clear and hydrated'.
Infused with organic charcoal – which draws out bacteria, toxins and excess oil – organic tea tree oil – a natural antiseptic which reduces inflammation – and shea butter to keep skin nourished, fans are claiming it's better than medicated products they've previously tried on prescription.
One woman who suffered with acne for over ten years said that it cleared up her skin in just four weeks.
'I tried everything from prescribed creams and antibiotics to all the dermatologically approved lotions and potions,' Hanna Muir, 23, told Femail.
'I tried to change my diet and drink lemon water - anything to help.'
But after trying the miracle bar Hanna's acne almost completely cleared up.
'I'm now getting compliments on my skin, which is amazing. I never thought a £6 soap would change my life as silly as that sounds.'
Other fans have praised the product on Instagram saying that it completely changed their skin.
Sharing a close-up before and after image of her skin, one fan claimed the soap had made an 'immediate impact' over a seven day period.
Another added: 'Best purchase I have ever made after trying ever single product on the market for acne. My skin has cleared up and has never felt better… for anyone looking for clear skin, don't think twice and pick up this little miracle worker.'
A fellow enthusiast claimed the soap was better than prescribed acne treatment Roaccutane, saying: 'This is genuinely the BEST skincare product I have used in a long time. I have tried hundreds of treatments over the years to keep acne at bay after Roaccutane… my skin has never been this smooth and oil free.'
And another added: 'This stuff is amazing! 2 and a half weeks and my skin totally cleared up.'
While another fan claimed the soap was 'the best ever' and urged acne sufferers to try it over the 'expensive breakout preventing products'.
Celebrity fans include former celebrity stylist Roxie Nafousi and the brand insists the positive feedback has come spontaneously 'none has been paid for by advertising or influencer seeding'.
A Freelance Writer and Content Editor, Jenni has been working on the women's lifestyle team at TI-Media on and off for over three years. She writes about your favourite celebrities and TV shows so you never miss an update. Jenni also writes beauty news and features - so for all of your skincare and make-up needs, drop her a line.