We earn a commission for products purchased through some links in this article.
Many of us have to work up the confidence to don our bikinis for a trip to the beach or the pool, so when we saw these pictures of mum-of-three Amy Pence-Brown in her swimwear on the street, we knew hers was a story that we wanted to hear.
Amy, who lives in Boise, Idaho in America, is part of a group called the 'Boise Rad Fat Collective': 'We're a group of socially engaged Idahoans of all shapes and sizes who are fed up with mainstream media and society telling us what a valuable body should do/be/act/look like,' she explains.
'And while it started with just a handful of my best strong female friends, it's expanded now to include people I've never met (even though we do try to plan regular meet-ups in real life). And generally speaking, we're a positive bunch who share lots of news on cutting-edge literature and scientific studies and fun films and personal stories, while being supportive and thoughtful in our Facebook wall discussions (gasp!).'
'New members are always welcome and, no, you don't have to be fat to join in nor do you have to live in Boise, but you do have to be respectful and smart and adhere to one basic concept – that all bodies are good bodies.'
All images: Melanie Folwell
This inspiration for Amy's experiment came from a story about a similar, younger activist called Jae West, who bravely stripped down to her swimwear and stood blindfolded in Picadilly Circus in London, asking people to draw hearts on her body if they shared her promotion of self-acceptance after overcoming an eating disorder. The response was overwhelmingly positive and Jae's video of the events went viral – but Amy wondered if the response would have been the same if the location was a less progessive, smaller town, and if a larger, older woman was the participant.
So she took on the challenge herself.
She chose the local farmer's market, and admits that she was nervous on the day.
'I was terrified. I was scared that I might get asked to leave by the police or that people would yell terrible things at me or that no one would draw a heart on my body and I'd stand there alone and crying for minutes that felt like hours,' she wrote on her blog, Idaho Style.
'Well, none of that came true. Except for the crying part.'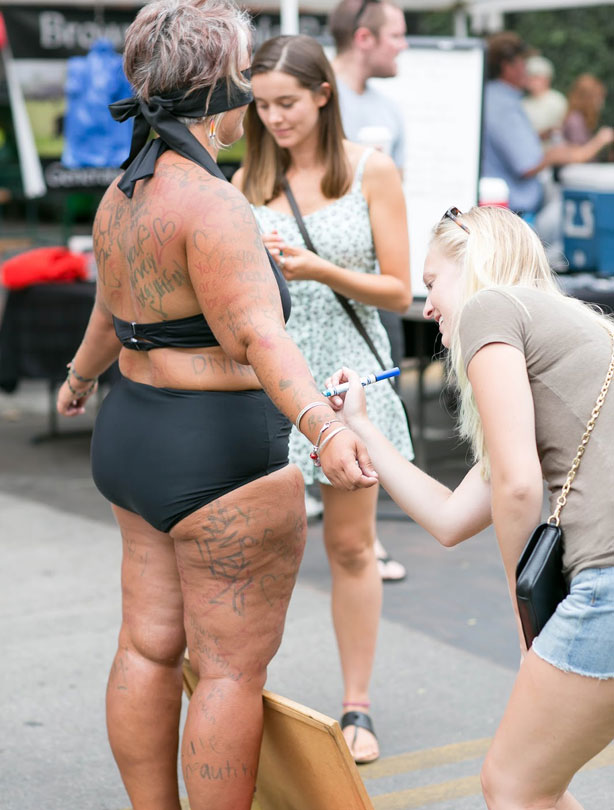 In just 50 minutes, Amy was absolutely covered in hearts and general messages of support from strangers of all ages and genders, and was amazed by the incredible reaction she'd received from almost everybody that walked by. Across her skin, words like 'strong', 'awesome', 'amazing' and 'gorgeous' were scrawled in enthusiastic marker – but despite the physical response, she says the most influential reactions were the ones you couldn't see:
'The dad who stood in front of me with his two young sons and knelt down to tell them "this is what a beautiful woman looks like".'
'Teenaged girls who ran up to me afterward as I was walking down a side street to tell me I'm an inspiration and a role model. '
'The twentysomething man who stood behind me and whispered, "The effects of what you are doing here are far reaching. It's absolutely amazing. The power of this moment will go on and in ways you never thought possible. You are changing more lives than you know".'
According to Amy, who has two daughters and one son, the day 'restored her faith in humanity' and 'blew her mind with kindness', but she says that overall, her message is one of self acceptance and self love.
She finished her blog simply: 'We can't truly love one another until we fully love ourselves. And once we do, I guarantee, that together we can move mountains.'
Amen to that.