'All bodies are good bodies' Amy Pence Brown on blogging, body positivity, and asking strangers to write on her skin in the street
'As a mother to three young children, it's so important to be the example you are trying to teach.'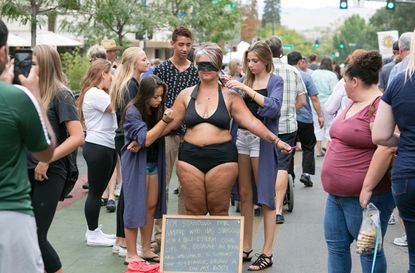 Last year, Amy Pence Brown created a viral video in which she stood in the street in a bikini and asked complete strangers to draw on her skin. Here, as part of our #loveyourbody series, she explains why she felt she needed to conduct the experiment, and what she learned about her community in the process.
In August 2015 I saw a beautiful, raw performance art video on the internet by The Liberators International, in which Jae West shed her clothing in London, armed with markers, a sign, and a blindfold, and asked people to draw hearts on her body if they share her promotion of self-acceptance, after overcoming an eating disorder.
It was heartwarming, and my activist feminist thoughts started churning. As a teenager I quickly became aware how politicized my female body is, but 12 years ago I became a mother, and seven years ago I started on my journey in the body positive movement when I literally Googled the words, 'Why am I fat and happy?' - both life-changing moments which became integral in my writing and art.
I wondered what it might be like if something similar was performed by a person less socially acceptably beautiful, like a fat 40-year-old mother and in a less progressive city, like Boise, Idaho.
I decided to find out.
What resulted was an hour of the most pure outpouring of humanity and kindness I've ever witnessed. I was not expecting people to write words on my body. I asked them only to draw hearts, and they immediately went rogue. I also did not expect them to talk to me or hug me, but they often grabbed my hand and whispered their stories of suffering and strength.
Images: Melanie Folwell
I wrote a little blog post about the experience, which included some lovely photographs taken by Melanie Folwell, my photographer, and a video we made one evening, and put it out into the world.
Within 24 hours it was picked up by the local media, within 48 hours I received my first call from USA Today, and within 72 hours I had gone international, with press coverage in every language imaginable. To date, our cumulative video views are over 130 million, making it one of the most viral videos of all time! It seems many people have been ready and waiting for me to stand up, just so they could grab my hand, stand next to me, and say, 'me too!' - from fathers to teenaged girls to 80-year-old women to celebrities like Alanis Morissette and Kevin Bacon.
I think body image and self-acceptance are universal struggles for all people, men and women. That being said, women have been held to different standards of idealised beauty and systemic oppression over all aspects of our bodies. I always tell people who are struggling with body image to first START READING!
Education is key. Google 'body positive'. Start following fat activists on Instagram. Read blogs about Health At Every Size. Most importantly, trust your gut and listen to your heart about what is really important to you and what is not.
Image: Amy Pence Brown
Like many women, I struggled with self-esteem issues from a young age, especially regarding my weight, but have come to be at peace with my body as it is. I'm hoping my activism will help others get to the same place. I'm honoured to have emerged as a leader and a strong voice for such an important social stance.
We have a saying in our house: that all bodies are good bodies. As a mother to three young children, it's so important to be the example you are trying to teach. I want them to see me living out loud – being unapologetic about being true to myself and sharing that kindness to others.
One of my favourite writers, the American Anne Lamott, wrote this recently, which I think perfectly sums up this journey we're on:
'Everyone is screwed up, broken, clingy, and scared, even the people who seem to have it more or less together. They are much more like you than you would believe. So try not to compare your insides to their outsides. Also, you can't save, fix or rescue any of them, or get any of them sober. But radical self-care is quantum, and radiates out into the atmosphere, like a little fresh air. It is a huge gift to the world. When people respond by saying, "Well, isn't she full of herself" smile obliquely, like Mona Lisa, and make both of you a nice cup of tea.'
After all, we can only truly love one another if we love ourselves first.
Watch Amy's amazing experiment in full
Radical Self-Acceptance: An Experiment/Performance by Amy Pence-Brown from Melanie Flitton Folwell on Vimeo.
Amy Pence Brown runs the the Boise Rad Fat Collective, a private Facebook group dedicated to sharing resources and advocacy about body positivity, brimming with over 800 folks from around the world who are engaged and fed up with body shaming. Anyone is welcome to join – you don't have to be fat or live in Boise! You can also follow her on her public Facebook, Twitter and Instagram, and visit her blog at Doin' It All, Idaho Style.
Trusted, informative, and empathetic – GoodTo is the ultimate online destination for mums. Established in 2007, our 15-year-strong archive of content includes more than 18,000 articles, 1,500 how-to videos, and 7,000 recipes.