Bazaar of Bad Dreams by Stephen King book review
Read our review of bestselling author Stephen King's latest novel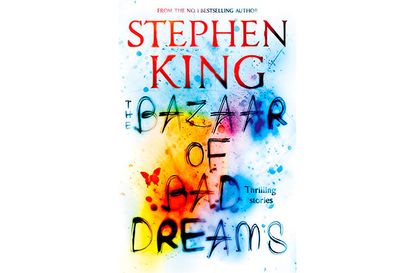 GoodTo newsletter
Sign up to the GoodTo Newsletter. You can unsubscribe at any time. For more information about how to do this, and how we hold your data, please see our privacy policy
Thank you for signing up to . You will receive a verification email shortly.
There was a problem. Please refresh the page and try again.
What is Bazaar of Bad Dreams about?
Stephen King is the undisputed master of nerve-shredding stories and this collection of short stories shows his impressive versatility. The collection of 20 stories is a mix of old favourites and brand new tales but what makes this book extra special is the insight King gives before each story. The autobiographical prefix sheds light on when, where and how the idea became a reality - fascinating stuff!
goodtoknow says...
"I made them especially for you," says King. "Feel free to examine them, but please be careful. The best of them have teeth."
Stephen King can do horror, that much we know from the likes of Carrie and The Shining, and this is a strong thread through this collection, but what is refreshing about this book is the inclusion of more, dare we say it, normal stories. In the introduction King says his principal purpose is to entertain and he does his hardest with a vast mix of stories, themes and characters.
His love of horror fantasy is clear with opening story Mile 81 where a derelict vehicle mysteriously swallows up everything (and everyone) that touches it and with Bad Little Kid, where a mystical evil child haunts a man throughout his life.
And while death is a strong theme throughout the stories, some dial back the horror and fantasy to reveal an emotional human side. Batman and Robin Have an Altercation is touching story about a son's regular lunch trips with his father who is suffering from Alzheimers (with a classic gory King ending, of course!)
What sets this book apart from King's other works, and indeed other short story collections, is the in-depth prefixes before each of the stories. Detailed, personal and self-deprecating, King shows that while he might not take himself too seriously, he takes the art of story-telling very seriously indeed.
Rating: 8/10 Publisher: Hodder & Stoughton Publish Date: 3rd November 2015
Trusted, informative, and empathetic – GoodTo is the ultimate online destination for mums. Established in 2007, our 15-year-strong archive of content includes more than 18,000 articles, 1,500 how-to videos, and 7,000 recipes.