We earn a commission for products purchased through some links in this article.
Victoria Derbyshire has released a new video diary documenting her journey through breast cancer – this time talking about her experience with hair loss.
The BBC news presenter announced she had breast cancer in August 2015 and said that she would be undergoing treatment in the following weeks.
Victoria's diagnosis was lobular breast cancer, which means it develops in the breast lobes and accounts for about 10% of all breast cancers.
She underwent surgery in September 2015, but says in her latest update that 'It [hair loss] has been the thing that has affected me the most, more than a mastectomy.'
In the 8-minute film, Victoria shows viewers the first strands of hair that she begins to lose, saying 'I was prepared for it – obviously it's a side effect of chemotherapy, but it's slightly disconcerting nevertheless.'
She then discusses her use of cold caps, which are designed to minimise hair loss throughout the chemotherapy process, showing viewers the icicles inside the cap after she has finished wearing it. We also see the hair that comes out after a shower and hairwash, which Victoria herself says is 'quite a lot!'
Initially, Victoria seems calm and rational about the loss of her hair, but in a later, poignant scene reveals that it is one of the things she's finding it difficult to come to terms with.
'I would say I have lost about 30-50% of my hair,' she says, and then lifts her wig to demonstrate the loss. 'I'm finding this hard,' she admits.
Victoria shares a picture of her hair after brushing, demonstrating just how much she's lost
However, by Christmas Eve, her spirits seems lifted as she tells the audience 'I have got used to wearing a wig, which is something I never thought I'd be able to say.'
'The idea a few weeks ago of wearing a wig absolutely horrified me. It represented stress, it represented something peculiar and not me. Now, I can put it on in five minutes in the morning. It just lets me crack on and get on with things, which is absolutely great.'
She ends the video on a positive note, saying she's now told her colleagues that she's wearing a wig and feels much more comfortable with it. Although she says losing her hair has been 'the distressing part for me', but reminds herself that it will grow back, and says that she's ready to 'roll on 2016!'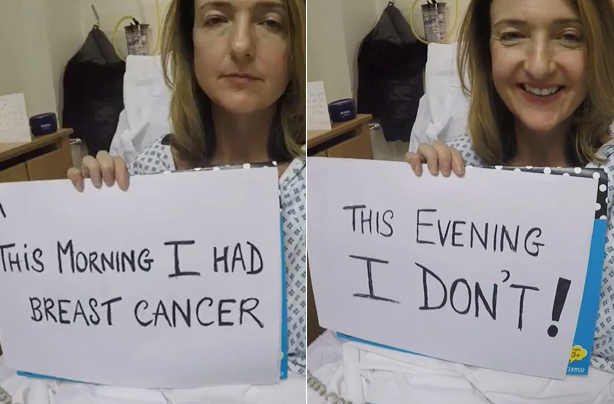 The hair loss video is just the latest in a series Victoria has made throughout her experience with cancer. Another of her films documents the evening of September 25th 2015, just hours after she woke up from having her mastectomy. It starts with the presenter sharing a powerful message in the form of flash cards. She holds up the signs, written in permanent marker, which spell out the words:
'This morning I had breast cancer. This evening I don't'
The 47-year-old mum-of-two said that her reason for making the video was to help de-mystify some of the treatments that are used to treat breast cancer.
She described her feelings after the operation as 'such a relief' and, 'I feel all right, I can't believe it.' She went on to add that having a mastectomy is 'totally doable.'
The BBC presenter announced her diagnosis in August and has since undergone a mastectomy.
She also sent encouraging messages out to anyone else finding themselves in a similar position to her, stating, 'Here is the thing. Having cancer is managable. Having a mastectomy is totally doable. I didn't know those things until I got cancer. And that's what I want to tell people.
The star also thanked the public for their numerous messages of support.
'I don't feel that I'm battling cancer, I don't feel that I'm fighting cancer – I am simply being treated for cancer.'
The presenter had her right breast removed, as well as three lymph nodes in her right side which contained the malignant cancer. In the weeks to come she will find out whether she requires any further treatment in the form of radiotherapy or chemotherapy.
The operation also involved a breast reconstruction using an implant, which Victoria described as 'amazing.'
Watch Victoria's mastectomy video below
We commend Victoria for being so honest and open about her experience and hope that it will give some much-needed encouragement to other women in her position.
Do you have any experiences with cancer that you'd like to share? Let us know by leaving a comment below.