We earn a commission for products purchased through some links in this article.
Image: Facebook/Bekah Miles
Depression is a battle that affects more than 350 million people across the globe, and many sufferers opt to get tattoos to mark their strength in the face of the illnesses' adversity – but 20-year-old student Bekah Miles' new ink is a more unique take than most.
The tattoo, which spans Bekah's lower thigh, appears to read as 'I'm fine' upon first glance. However, when you view it from her perspective, the message is quite the opposite…
Image: Facebook/Bekah Miles
Bekah shared the picture of her new artwork on her Facebook page, along with a heartfelt essay about the reasoning behind her decision to get the tattoo.
'(Dear mom and dad, please don't kill me over this permanent choice. I want you to hear me out.),' she wrote.
'Last year, I was diagnosed with depression. And in all honesty, I believe it was a problem for quite a while before that, but I think it just got worse to the point of hardly functioning.'
'So today, I got this tattoo. I feel that my leg was the best place for the meaning behind it. When everyone else sees it, they see "I'm fine," but from my viewpoint, it reads "save me." To me, it means that others see this person that seems okay, but, in reality, is not okay at all. It reminds me that people who may appear happy, may be at battle with themselves.'
She also explained how depression had made her feel, listing daily and long-term difficulties she had faced due to the condition.
'To me, depression is the days that I feel sad for no reason.
Depression is the mornings that I don't feel capable of getting out of bed.
Depression is the sleeping too much, or sleeping too little.
Depression is the homework that I never completed, simply because I didn't feel like I was capable.
Depression is the break downs I have over absolutely nothing.
Depression is the eating too much, or eating too little.
Depression is the nights I begin to cry because I feel so overwhelmed, even though everything is going right.
Depression is the 50 pounds I carry in my chest at all times.
Depression is the need to constantly be distracted (being on social media, playing video games, watching movies or shows, or working all the time) because I can't trust myself with my thoughts for longer than 3 minutes.
Depression is the friendships that have suffered because of my inability to function.
Depression is the hurtful thoughts and actions I have towards myself.
Depression is the tears I have because I don't know why I feel so worthless, when I know I should feel happy.'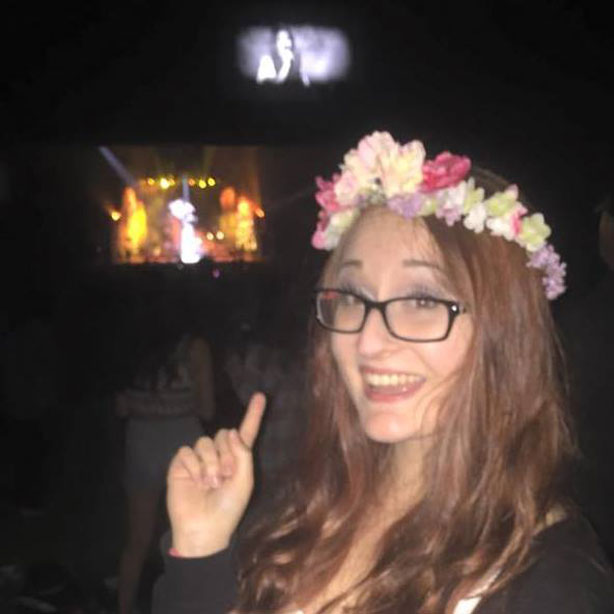 Image: Facebook/Bekah Miles
Since she shared her story and photo, Bekah's post has been shared more than 322,000 times
'That's why I got this tattoo; they are great conversation starters. This forces me to talk about my own struggle, and why the awareness of it is important. You'd be surprised by how many people YOU know that struggle with depression, anxiety, or other mental illness. I may only be one person, but one can save another…and that's all I could really ask for,' she continued.
'Maybe this is part of why I am so interested in psychology. I want to help people who feel the way I have—and still do—because it's hell. And I don't wish that upon anyone.'
Bekah then finished her post with a quote from the late actor Robin Williams, who had reportedly received treatment for depression.
'I think the saddest people always try their hardest to make people happy because they know what it's like to feel absolutely worthless and they don't want anyone else to feel like that.' — Robin Williams
Bekah is from Oregon in the US, but has received likes, shares and comments from her post from people around the world, applauding her new tattoo and the sentiment behind it. In fact, she's been so overwhelmed by the response that she wrote another message thanking everyone for the awareness the post has raised.
'I never expected it to go beyond my friends and family,' she said. 'I thought reaching out to them was enough, but I am completely and utterly in awe of how far this has traveled.'
'This is exactly what I wanted–to reach out to people and let them know that they are not alone. Clearly, 24,000 people [at the time of writing] and counting feel the exact same way. Please keep sharing and spreading the awareness. This is the only way to get some real change in the stigma. If you want to share it other places like tumblr, twitter, instagram, etc., go for it. I posted it on twitter (@bekahmiles), tumblr (evicted-minds), and instagram (@bekahmiles).'
'Please, please, please don't stop the conversation. It needs to keep going.'
If you or someone you know is experiencing depression and needs help, visit www.mind.org.uk