The best alarm clocks we've ever heard of
We round up the very latest in 'super alarm clocks'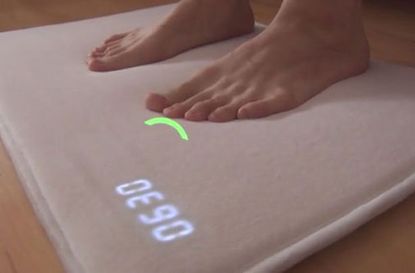 GoodTo newsletter
Sign up to the GoodTo Newsletter. You can unsubscribe at any time. For more information about how to do this, and how we hold your data, please see our privacy policy
Thank you for signing up to . You will receive a verification email shortly.
There was a problem. Please refresh the page and try again.
Let's face it, there just isn't an enjoyable way to be woken from sweet slumber. But, if we do have to get up then we want it to come about by one of these creative solutions...
You can keep your iPhone beeping and your clock clanging, because there's a new breed of alarm clock in town, and these guys are giving more than just your average shrill tone. Yep, these new super shiny, best alarm clocks (our own name for them, not an official one, in case you're wondering) deliver in the morning, when you need to be treated kindly the most.
From bacon delivering to coffee smelling, we couldn't help but fall in love with the idea of these rather individual solutions for getting out of bed in time for breakfast, the school run, work, the gym and all the other 500 things we always seem to need to do...
So, without further ado let us present the super alarm clocks!
1. The One For Couples
https://www.facebook.com/413075392655/photos/pb.413075392655.-2207520000.1459329623./10154480675202656/?type=3&theater
Have a different wake-up time than your partner? Avoid waking them up and, more importantly, getting woken up by the endless snoozing with a ring alarm clock for couples.
These two rings can be set to go off at different times, and wake you up with a vibration that your partner will have no problem sleeping through. The product that could well revolutionise a lot of couples' lives is still just a concept but we're keeping our fingers crossed for it to hit the stores!
2. The Barisieur
A wise man once said 'a yawn is a silent scream for coffee', and this alarm clock seems to know that. If you can't function in the morning without a kick of caffeine then this is probably for you.
The Barisieur gently heats water in a science-lab-like glass beaker using metal ball bearings that are warmed by an induction plate sitting below the glass container. As the water starts to boil these little chaps begin to rattle, helping to wake you up and tempt you out of bed (or at least to sit up) with the smell of freshly ground coffee.
3. Mimicker Alarm
http://www.youtube.com/watch?v=VWJyCYkMc3Y
Surely we can all agree that waking up in the morning can be one of the toughest struggles of our day, but this app promises a brighter new world, where we all bounce out of bed bright eyed and bushy tailed.
We're not sure we buy that completely, but the idea is a clever one. Basically the Mimicker Alarm app, powered by the Microsoft Project Oxford, asks you to choose one of three 'games' to wake yourself up (there's no such thing as a game that wakes us up, unless you're speaking to our kids, but fine). This could be to either take a selfie with a specific expression, snap a required object in your house or to repeat a tongue twister.
Allison Light, a programme manager on Project Oxford apps, told Metro: 'We're a lot nicer than other alarms.
'You only need to complete one game to shut off the alarm. You can choose the sounds and which games you want to play.'
4. The Ruggie
Introducing the very latest contender: the Ruggie. This clock is so hot of the press it hasn't even been made yet, but that hasn't stopped him gathering quite the press cutting CV.
As a Kickstarter (opens in new tab) project this alarm clock needs 50,000 of the finest American dollars put behind it to be made into a real life, functioning thing - but for now, there's the prototype. And what a prototype that is.
The basic idea is that people need to wake up in good time in the morning, to avoid that everyday rush out the door, meaning you start your day feeling stressed. The Ruggie encourages a healthier start by making you get out of bed to turn off you alarm.
You see, this isn't just any alarm clock, it's a super soft rug that you keep beside your bed. Bit weird, granted, but when it starts going off you will need to stand on it for 3 seconds to turn off the bleeping. You'll then be given a motivational quote to kickstart your day.
We're yet to find out whether a heavy book would do the job, but we're certainly intrigued...
5. The Banclock
Saving and sleep aren't necessarily two things we'd put in the same category - after all, you've got to be out and about bringing home the bacon to save in the first place! However, this nifty little contraption somehow merges the two.
You see, you actually have to feed this demanding little chap money to get him to shut up.
Clever idea, but we're slightly worried at the irrationality of our morning selves - how much would we pay to snooze? Alarming (sorry) to say the least.
6. The Lumie
Ok, The Lumie has been around for a while but having quite the following of fans we thought it deserved a spot on the list.
This clever contraption wakes you up slowly, with a light that gradually gets brighter. This sensory experience is meant to mimic daylight and encourage your body to feel like it's time to get up, which could be just a treat come 6am in December.
7. The Child
You may be familiar with this one, it's called YOUR CHILD. It somehow never wants to sleep and then come daybreak its the brightest-eyed bushiest-tailed creature going - making sure you're up nice and early, too.
One entrepreneurial dad has actually been offering up his child as a natural alarm clock via Facebook. The Liverpool Echo (opens in new tab) reported that dad to one-year-old son Archie, Kevin Davies, posted the following advert on Liverpool Bargain Bay:
'Priceless alarm clock...
'No need to set your alarm for work at 6am because u will already be up at 5.30am with this little one.
'Breakfast? No problem, he will have you making toast at 5.35am to start your day on a nice full belly.'
Sounds familiar, very familiar. Now, we just wonder how much we could rent our lot out for...
8. The Dumbell
Two of our least favourite things combine in this alarm clock from the depths of hell - exercise and consciousness.
Yep, that is what you think it is, a dumbbell alarm clock. WHY?! We'll never know but this torture contraption actually makes you lift it a fair few times before it stops with its siren calls. We imagine we'd be healthier, but also a lot grumpier...
9. The Wakin' Bacon
http://www.youtube.com/watch?v=zi-O0LCOqdQ
In one of the greatest tragedies of our time this little miracle machine has actually stopped being produced. It was just so good we had to include it anyway.
Basically, it's shaped like a pig and heats up bacon to wake you up in the morning. Why isn't this a thing? We'll never understand. You simply pop a slice of pre-cooked bacon in the little delivery tray and then ten minutes before you have to rise and shine this piggy miracle worker warms up a piece of his own backside for your morning snack.
Thinking about it, perhaps it was the unsettling idea of a pig warming up bacon that put this one out of business...
10. The Sensorwake
Waking up to the smell of coffee and croissants sounds like a dream, are we right? Which is what this contraption does, but that's all it does. You will not get said items, we repeat - there will be no coffee provided.
The Sensorwake stirs you from slumber by wafting smells at you, instead of the usual noisy wake up call of a traditional alarm.
Our thoughts are that this is nice in theory, probably infuriating in real life?