Bullet journals: Is this latest internet craze a godsend for busy mums?
Despite our best intentions, we all have days where our mental to-do list grows out of control - but what if we told you that a bullet journal could make more time for you…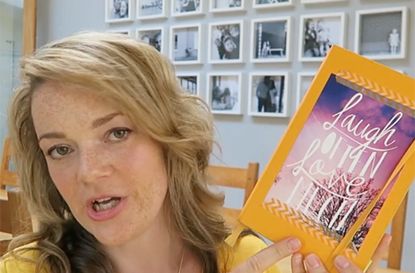 As a mum, it's easy to feel overwhelmed when you're pulled in every different direction by, well, life in general.
But what if we told you that using a bullet journal could make more time for you, with just a little investment of your time?
We know it sounds too good to be true, but hear us out because all you need is a pen and a notebook to get started...
In the video above, our mum blogger Sarah shows you exactly how you can start your very own bullet journal with her step by step guide. Plus, we detail absolutely everything you need to know here, so you can start your journey to organising success!
What is a bullet journal?
The humble filofax can take a back seat because the bullet journal - an American concept that's been around for two years - is meant to help 'track the past, organise the present, and plan for the future', and it's taking the internet by storm.
A bullet journal is good for people who:
Love goal-setting and habit tracking
Enjoy keeping a list of things to do, particularly pen and paper lists
Love being organised, with highlighters and icons
Want to be more organised, but struggle
How is a bullet journal different from a diary?
The official line is that the bullet journal is a 'customisable and forgiving organisation system'. It's made up of an Index, Future Log, Monthly Log and Daily Log. Then these different sections, or Collections as the journaling community calls them, are each filled with Events, Tasks and Notes that are distinguishable by the symbol used to mark them. While bullet journal were designed to be purely functional they have become increasingly creative and extravagant, making them perfect for the artsy and minimalists alike. For inspiration, all you have to do is visit Pinterest to feast your eyes on hundred of images of beautiful journal pages filled with calligraphy, washi tape and doodles.
Why should I use a bullet journal?
The process of handwriting engages your brain and encourages you to take the, 'if it's not important enough to handwrite, it's not important enough to keep in your life' approach; a simple but surprisingly effective system.
Forget the standard page-a-day diary, the beauty of the bullet journal is that it can be personalised to benefit your day-to-day life. For example, on top of your Future Log (like a year-at-a-glance calendar), Monthly Log (like a traditional monthly calendar) and Daily Log (stuff you need to get done that day), you might also include space for a weekly meal plan, or a shopping list, its entirely up to you.
How do I start a bullet journal?
All you need is a pen and journal. The website says, 'The two main things to keep in mind are size and quality. If it's too big you'll never take it with you. If it's too small it will be impractical. Be sure to get something that's rugged enough to keep up with you.'
The Index
First and most importantly, the Index (table of contents that you update as you go) is the backbone of the bullet journal and will help you organise your entries and reference them later. To use the Index correctly simply number your Journal pages as you go and write the name of the entry or Collection into the Index alongside the page number. Simple.
The Future Log
Next is the Future Log. This is for writing down Events or Tasks that are occurring in future months.
To create an instant six-month Future Log, split a double-paged spread into six sections and add Events as you go along.
The Monthly Log
Then there's the Monthly Log, which usually consist of two pages, one acting as your Calendar and the other your Task Page. Using the Calendar to write down Events such as birthdays, anniversaries and holidays, the idea of this entry is that you can glimpse at the page for a birds eye view of the month; ideal for the summer holidays when it can be hard to keep track of who is coming and going.
The Daily Log
The Daily Log is the one Collection that you will use on a day-to-day basis and it contains: - Tasks - Events - Notes
Once you have written your list of Tasks as the beginning of the day, try not to add more to the list, this will help keep that overwhelming feeling at bay. But, Events and Notes can be added throughout the day.
What are the bullet journal symbols?
While Notes are marked by a - and Events are an O, Tasks are marked by a ·
Once a Task is completed, that mark becomes an X or, if Scheduled or Migrated instead, becomes a > or <.>
It's a lot to remember so just keep a key at the front of your bullet journal to remember.
There's something satisfying about turning that bullet into a cross which, believe it or not, we swear makes us work that little bit faster to get things done.
When the end of the month comes along, sit down and review all of the tasks that you have migrated and ask yourself which ones still need attention? Chances are, not a lot of them and that's because we have a tendency to take on too much in the first place. With these tasks behind you, feel free to score them out and consider your goals for the next month.
Why not start planning your bullet journal and see what a difference our favourite new organisation method can make to your life!
Why are bullet journals good for busy mums?
Phone numbers e.g. doctors, midwife, insurance information, work, school...
Weekly meal planner and shopping list
Collections of 'funny things Oscar said'
Habit cultivator and tracker e.g. exercising 3 times a week, 10-minute meditation a day, reading list, laundry...
Cataloguing your baby's feeding times, sleep patterns, mood, doctor's summaries and appointments as well as weight/height.
Health & Fitness tracker e.g. sleeping 8 hours a night, walking 10,000 steps a day, gym, 2 litres of water...
Spending habit tracker
Bucket list or 'someday' list
Trusted, informative, and empathetic – GoodTo is the ultimate online destination for mums. Established in 2007, our 15-year-strong archive of content includes more than 18,000 articles, 1,500 how-to videos, and 7,000 recipes.