Cancer nurse writes apology letter to former patients after her own diagnosis
'I'm sorry. I didn't get it'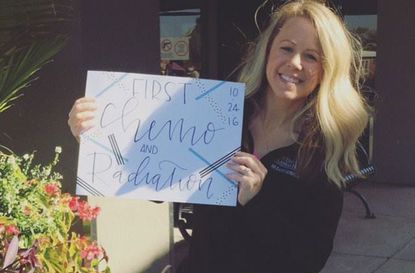 A cancer nurse has penned a heartfelt apology to all of the patients she's treated in the past - because after her own cancer diagnosis, she realised that she didn't 'get it'.
Mum-of-two Lindsay Norris shared the emotional message on her blog, Here Comes the Sun, explaining that before being told that she had stage three colorectal cancer, she didn't truly appreciate how hard it was not only to battle through the illness, but to tell friends and family, to get sad looks from strangers, and to be so confused and overwhelmed about what's happening with your body.
'Dear every cancer patient I ever took care of, I'm sorry. I didn't get it,' she wrote.
'This thought has been weighing heavy on my heart since my diagnosis. I've worked in oncology nearly my entire adult life. I started rooming and scheduling patients, then worked as a nursing assistant through school, and finally as a nurse in both the inpatient and outpatient settings.
'I prided myself in connecting with my patients and helping them manage their cancer and everything that comes with it. I really thought I got it - I really thought I knew what it felt like to go through this journey. I didn't.'
https://www.facebook.com/photo.php?fbid=10104142156292540&set=pb.15915218.-2207520000.1480415969.&type=3&theater
She goes on to list all of the elements she hadn't expected to find so difficult, from hearing the actual words to waiting for appointments, Googling various terms and searching for 'information and stories of hope', and being called 'brave'.
'It's a word that gets thrown around a lot, yeah it kind of made you feel good - but you still didn't really understand why people would call you this,' she explained.
'Sure you were getting through it fine (most days), but it's not like you had a choice. I'm getting treatment because I have to - doesn't really make me feel like much of a hero.'
Adding how tiring and confusing the process has been, Lindsay admits that she still finds it hard to accept help.
'Especially the moms. This just wasn't something you're used to doing - but you needed it. You felt shy about admitting that you're not sure you could've gotten through the first few months without the extra food, gift cards, support, and other help you were given,' she wrote.
'You felt humbled at the outpouring and just only hoped you would've done the same for them. You still wonder if you said thank you enough or if you missed an opportunity to give back'.
https://www.facebook.com/photo.php?fbid=10104292977316000&set=pb.15915218.-2207520000.1480415965.&type=3&theater
She also opened up about her fears for her children, and how this was the thing she wished she'd understood the most: 'I should've talked to you more about them - and not just in terms of lifting restrictions or germs. You worried about how this was going to affect them. You worried about not being able to keep up with them or care for them properly on your bad days. You worried they'd be scarred and confused. You worried about leaving them.'
'I didn't get that it never ends. Never. I used to tell you that cancer will be just a phase in your life. Just like high school or something - it seems like it drags on and on when you're in it, but soon it'll all be a memory,' she concluded.
'I'm sorry if this made you feel marginalized – it is not a phase.
'Even though healthcare workers don't really know what it's like to be you (well, us) it's ok,' she adds. 'Nobody does. I just hope that I was still able to give you a little guidance and strength to help you get through your cancer treatment. Even if I didn't get it.'
https://www.facebook.com/photo.php?fbid=10104028372990190&set=pb.15915218.-2207520000.1480415969.&type=3&theater
Since uploading her letter, Lindsay has been inundated with hundreds of supportive comments praising her thoughtful words.
'I too am an oncology nurse. I too didn't get it until I was diagnosed with Breast Cancer. You so elegantly described what it really is like. Thank you for putting into words what it is like,' one wrote, while a second agreed: 'I loved my oncology staff and nurses.
'They all did so much for me and helped me through 2 surgeries & 20 rounds of chemotherapy lasting over a year for my colon cancer! You guys are amazing! Now, I'm hoping for the best. I pray for your full & speedy recovery & wish you and your family the best. You will get through this.'
Trusted, informative, and empathetic – GoodTo is the ultimate online destination for mums. Established in 2007, our 15-year-strong archive of content includes more than 18,000 articles, 1,500 how-to videos, and 7,000 recipes.