'Just don't know how to deal with it' Carol McGiffin opens up about sister's tragic death
Carol opened up about her loss in a series of tweets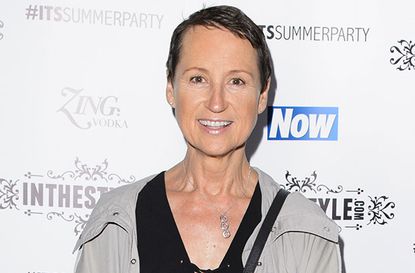 Carol McGiffin has opened up about struggling to cope with her sister's death, admitting she 'doesn't know how to deal with it'.
The Loose Women star reached out to fans in a series of tweets, admitting 'there is so much sh*t going on with my family at the moment'.
Asking her 454k followers for help, she first tweeted a mysterious message saying, 'Life, eh? I don't know. I just don't know. Any ideas? x'
After confusing some followers, Carol continued to explain that her family problems were becoming too much for her.
She wrote, 'What I'm trying to say is, there is so much sh*t going on with my family at the moment….just don't know how to deal with it. That's all. x'
Fans, friends and family rushed to support the 56-year-old presenter with messages of encouragement and support.
One follower said, 'thinking of you, only you know your family and how to deal with things x', while another reminded Carol she was 'made of strong stuff' saying, 'we carry on Carol because we are fighters. Don't let it get you down, fight for the ones we love. We are made of strong stuff!!'.
A third Twitter user wrote, 'sometimes all the sh*t comes at once eh?One day at a time, offer support where you can, that's all you can do.Take care of you too x' and a fourth agreed, 'Be strong. Take care.'.
Carol thanked her followers for their 'lovely messages' saying they 'helped a lot'.
The star sadly lost her sister to cancer just four months after she was diagnosed. The Loose Women presenter, 56, has battled cancer herself, undergoing six rounds of chemotherapy and a mastectomy when she was diagnosed with breast cancer in April 2014.
It was when previously speaking to Best magazine that she revealed her younger sister Tracy had passed away from the illness.
'I knew she was going to die, but I kind of hoped that it would be later… like, years away,' she said.
'Now, when I find myself saying the words "my sister died last weekend", it still doesn't seem real. Perhaps because it hasn't properly sunk in yet, or that I'm just not ready to believe it.'
Tracy, 53, found a lump in her left breast, and confirmed her terminal cancer diagnosis to Best in a joint interview with Carol in December 2016.
'Cancer is scary, but I don't see the point of getting emotional about it,' Carol said to the mag at the time. 'I said [to Tracy] "Right – we'll find out what the treatment is, deal with it, and you'll be fine."'
'But she wasn't fine. I think, deep down, Tracy knew it was bad news. She'd been having massive headaches, and her co-ordination was off – she kept bumping into things. It was all very odd.'
Carol, Tracy and their elder sister Kim went to get the results at Tunbridge Wells Hospital, where they found out that Tracy's cancer had spread from her lung to her spine, brain, liver and, finally, her breast.
'All chemotherapy could do was hold back time,' Carol added. 'I remember thinking, "Oh, God – it's just like when our mum, Heather, died of lung cancer, 13 years ago."'
Carol pictured after her mastectomy in January of last year
The family later set about helping Tracy to fulfil a bucket list, which Carol admits made her laugh when she first read it.
'Most of the items on it are impossible – if not physically, then financially,' she said of the list, which consists of swimming with dolphins, going for lunch on the Orient Express, and going to a ball and wearing a gown, amongst other goals.
'But we could do the last one, which is why we're here today. Tracy likes to be treated normally. When people know you have cancer, they look at you differently, and it's so annoying.'
'All I ever wanted people to do was talk to me normally about other things in life, and that's what I want for my sister.'
'Our mum believed in tough love – just get up every day and get on with it – and that's what Tracy's doing.'
'She's having chemotherapy once every three weeks, and I know how hard that is. You feel dreadful for the first week, good for the last few days, then it all starts again.'
'You can scare yourself stupid if you think about the cancer too much, so you don't. You just live every day.'
Trusted, informative, and empathetic – GoodTo is the ultimate online destination for mums. Established in 2007, our 15-year-strong archive of content includes more than 18,000 articles, 1,500 how-to videos, and 7,000 recipes.