We earn a commission for products purchased through some links in this article.
If there's one thing we've all learned by now it's to take every image we see, be it on Facebook, Instagram or Twitter, with a huge, over-exaggerated bucket of salt!
Most images aren't as easy as the celebs would have you think, especially those I-just-woke-up-like-this "make up free" images.
And, the nonchalant-look-off-into-the-distance pose? Yeah, that was probably after four takes.
So if, like every other single woman in the world, you've ever looked at those celebrity pictures and thought (glumly) 'that's so unfair, how do they look that good?' – never fear. No one does in real life, as Australian funny-woman Celeste Barber proves.
The photographs are part of a series called #CelesteChallengeAccepted, it includes Hollywood A-list celebs like Kim Kardashian and Miranda Kerr, who think they're posting candid everyday shots, acting like 'normal people' – I mean, they're just like us, right?
Wrong, watch Celeste demolish them and their poses.
Our favourite recreated images are Celeste making a splash as she copies model Kate Upton getting out of a pool – we've all been there.

Image: Instagram/celestebarber
Eating chips seductively, obviously, like Victoria Secret model Miranda Kerr.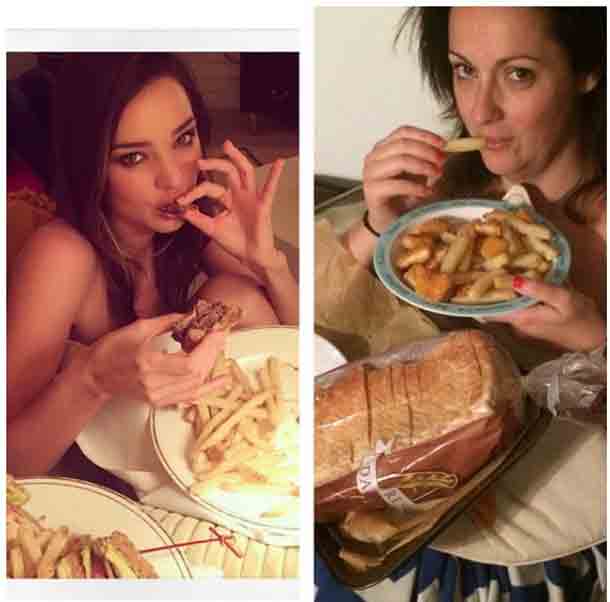 Image: Instagram/celestebarber
And, when she wanted to pull off a Kanye and Kim she even managed to rope her husband into it!
Image: Instagram/celestebarber
She even nailed the Paris Hilton perched on a bath pose – looks er, comfy.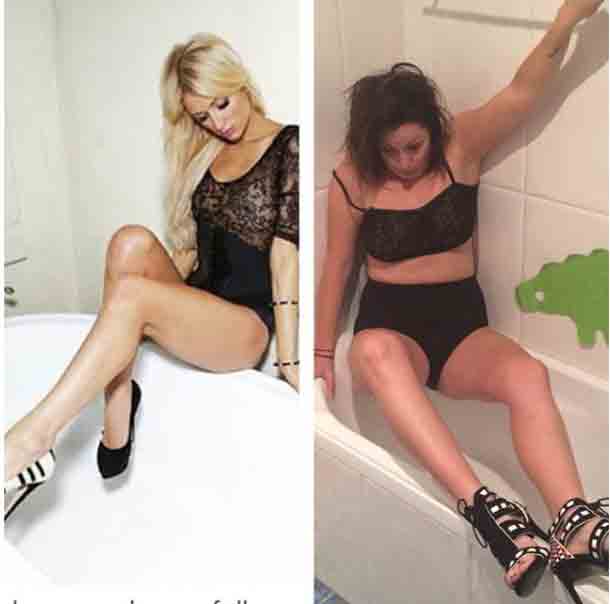 Image: Instagram/celestebarber
The comedienne insists she is only "having a laugh" and not trying to demean any of her subjects.  'I'm very pro-woman. I don't want to be bashing people like Kim K, I actually think "good on her." I think she is a smart business woman,' she told Time.com.
What do you think? Is she taking the mick or is it refreshing for someone to be honest on social media?