We earn a commission for products purchased through some links in this article.
Mad Men's Christina Hendricks is probably one of the world's most famous redheads.
Her role as feisty 60s secretary Joan Harris won her a legion of fans – but now that flame-haired beauty has shifted a shade, returning to her original blonde.
As a 20-something budding model, 40-year-old Christina turned her tresses auburn using a bottle of Clairol Nice 'n Easy, so it seems only fitting that she is now ambassador for the brand.
Now, as she steps out of Joan's colour-pop kitten heels and away from Madison Avenue, Christina opens up about her beauty routine, that hair transformation and some rather interesting beauty idols…
I could not live without cream blush, my Fresh lip balm (£18, fresh.com) and mascara. I love Maybelline Eraser Eye Concealer, too. It has a sponge applicator, you twist the bottom so the product comes out – it's fantastic.
One great tip I've learned along the way is, when you're doing a smoky eye, add a lot of powder underneath each eye so if any pigment drops down below you can whisk it away with a brush really easily.
Christina's blonde look is a far cry from the red tresses she's famous for!
My biggest beauty disaster was some years back. I had someone do my make-up and they did a very strong brow on me, with pulled-back hair. When I saw the pictures later I looked like a drag queen! It was a bold move.
When it comes to anti-ageing I'm not that familiar with what all the different products do. If a cream feels good on my skin and I see results, I'll use it.
I've been trying SkinMedica TNS Serum recently. It's supposed to be a collagen-enhancing kind of thing and I do like how my skin is looking. I'm also using a moisturiser by 3LAB that I really like.
My biggest pale skin beauty tip is to always use sun block. Because I'm so fair sometimes I can look a little bit pink so I like to use primers that have a hint of green in them to balance out my skin before foundation.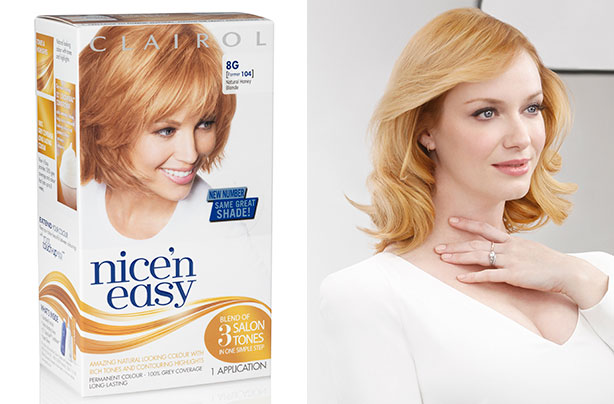 The Mad Men star used Clairol to get her hair back to its natural blonde colour
My current beauty idol is probably Auntie Mame – someone quite eccentric. I'm constantly inspired by different women. I think Florence Welch always looks great and Charlotte Gainsbourg is amazing.
Going back to blonde was easy, I love it. I haven't been this colour since I was 20 years old so it feels very youthful and energising.
I have had to tweak my make-up, when I was a redhead I could wear black eyeliner but it feels a little bit severe with the blonde. I'm going to experiment with softer tones and chocolate brown eye pencils from Lancome.
Hair colour change can be emotional – some people remember certain times in their life by the people they were with at the time, whereas I relate memories to what colour my hair was at the time.
My high school job was working in a salon as a shampoo girl, so I was used to seeing people transform themselves with their hair, which is why it has always been significant to me.