We earn a commission for products purchased through some links in this article.
Image: Facebook/Ciera Dawn Swarigen
Ciera Swaringen, 19, has a rare condition called Giant Congenital Melanocytic Nevus, which leaves more than two-thirds of her body covered with mole-like birthmarks.
The shoe-store clerk, who has recently graduated from high school in Rockwell, North Carolina, says she'd had to endure cruel taunts from a young age.
'One day I remember being on the school bus and hearing a young boy laugh at me and call me a spotty dog,' she told the Mail Online.
'That really knocked my confidence, I was only young and it made me feel different to the other kids, like something was wrong with me.'
The taunts hurt, but over time, Ciera managed to overcome her self-doubt and has blossomed into a happy, confident young woman, who posts frequent selfies to her social media pages, always with a huge grin on her face.
Image: Facebook/Ciera Dawn Swarigen
'Over time I've learnt to brush off negative comments and remember that most people stare and say cruel things because they're not used to seeing someone with my condition,' she explains.
'People in my town don't bat an eye when they see me now, as they know me. But if I go somewhere new, it's not so easy.'
She says she still get comments from people, particularly teenage boys. 'They say things like, 'You look like you're dirty, take a wash'.'
'But I'm so proud to be different and, at the end of the day, we all have something about us that's unusual, whether it's on the inside or the outside.'
The secret to Ciera's confidence comes in part from the support she receives from her family.
'I remember when I started school my mom told me that my birthmarks were angel kisses – and that really stuck with me.'
'And my dad is the first person to stand up to defend me if anyone says anything horrible to me.'
Ciera also has three sisters, who were not born with the condition, which affects around one in every 500,000 births. The marks can often be surgically removed, but in Ciera's case there were too many.
They do not pose a health risk day-to-day, although people with large nevus do have to take extra precautions in the sun, as they have a higher likelihood of developing skin cancer.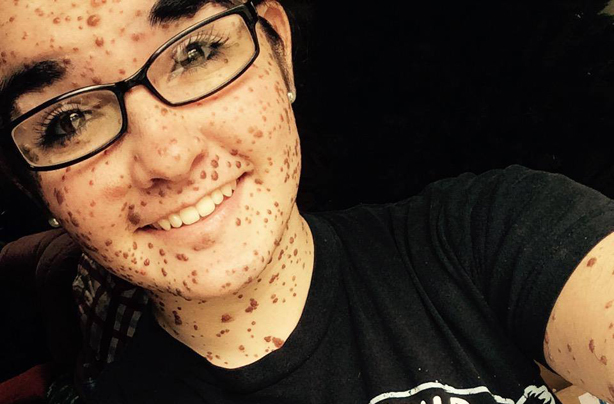 Image: Facebook/Ciera Dawn Swarigen
However, despite the difficulties she's had to overcome, Ciera takes everything in her stride, and is proud of her unique appearence.
'Everyone is born to look different, and we should all feel beautiful in our own skin,' she says.
The best attitude towards body confidence we've seen in while? We'd definitely say so! Ciera, you're gorgeous inside and out.