Davina McCall criticised for having 'negative effect' on young girls after posting abs selfie
'Please think about the effect you have on young teenage girls'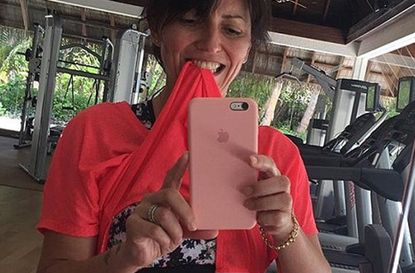 Davina McCall has come under fire from fans for revealing her toned tummy on her Instagram page.
The 48-year-old presenter and TV personality is well known for her amazing levels of fitness, but that didn't stop fans disapproving of the mum of three for being a poor role model to young girls.
The criticism started after Davina took a picture of herself in the gym on holiday and shared it with her 295K followers on Instagram, captioning it: 'The attractive "hold t shirt in mouth" post workout selfie! #hiit and #abs #5weekfit.'
Despite plenty of positive comments one fan couldn't help but be negative, saying: 'Love love the fact your very very healthy & fit but please think about the effect you have on young teenage girls posting pictures like this (sic).'
Davina had plenty of back up from other fans who told her she was 'inspirational' and 'amazing', but never one to hold back she had her very own response for the negative comment.
Addressing the Instagram user who thought she was perhaps having a negative effect on young girls, Davina said: 'I eat healthy. I'm 10 stone. I train. I don't train every day. I work and I'm a mum... but I do at least three times a week,' she said.
'I advocate this plan for everyone!!! (the weight thing should be correct for your height) don't u think? 😃 xxxx (sic)'.
One user even mentioned that she'd be happy for her young daughter to follow Davina, saying 'Davina as you can see we all love you and i wouldnt have a problem with my daughter following your feed. You inspired me, 1st 8lbs down 2st6lbs to go 😊 keep on inspiring. Big love from me 😊 p.s. loving the outfit 👍x (sic)'
During her time away Davina has shared plenty of snaps with her followers, one showing off her toned tummy as she sunbathed and another of her side-on looking trim in a bikini.
Alongside the snaps of her slim physique she's also been documenting her healthy meal choices, ranging from colourful salads to porridge and banana.
Rosie is an experienced food and drinks journalist who has spent over a decade writing about restaurants, cookery, and foodie products. Previously Content Editor at Goodto.com and Digital Food Editor on Woman&Home, Rosie is well used to covering everything from food news through to taste tests. Now, as well as heading up the team at SquareMeal - the UK's leading guide to restaurants and bars - she also runs a wedding floristry business in Scotland called Lavender and Rose.