'You really are never too young' Mum-of-two raises awareness after being diagnosed with bowel cancer at 35
Every 15 minutes someone in the UK is diagnosed with bowel cancer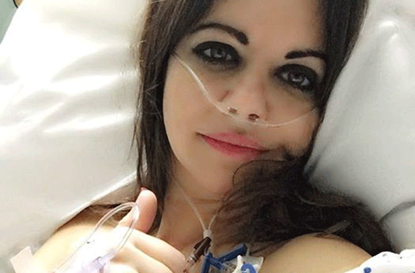 GoodTo newsletter
Sign up to the GoodTo Newsletter. You can unsubscribe at any time. For more information about how to do this, and how we hold your data, please see our privacy policy
Thank you for signing up to . You will receive a verification email shortly.
There was a problem. Please refresh the page and try again.
A mum-of-two is warning others that they are 'never too young' to get bowel cancer, after being diagnosed with the condition at 35.
Deborah James, from South West London, was told that she had a tumour in her bowel just before Christmas 2016, and has since had a third of her bowel removed and begun a six-month course of chemotherapy.
She explained to The Sun that she had noticed a change in her bathroom habits, but found it difficult to get a clear diagnosis.
'I started going to the loo lots, then I started passing blood. That's the point I thought, "something is wrong",' she said.
Deborah wondered if her symptoms might be the result of haemorrhoids or IBS, but after undergoing three sets of blood and stool samples, doctors couldn't see anything wrong.
However, spurred on by a 'sixth sense' that told her 'it's not normal to s**t blood', she booked in for a colonoscopy, and eventually found out that she had stage three bowel cancer.
https://www.facebook.com/photo.php?fbid=10157550112450297&set=pb.673360296.-2207520000.1488272527.&type=3&theater
'You feel numb, shocked, like you're in a dream that's happening to someone else,' she said. 'Then over the next few nights you wake up at 4am and you say to yourself, "is this a dream", and you're confronted by reality, "no you still have cancer".'
Deborah admits that one of the hardest parts of her diagnosis was telling her children Hugo, nine, and Eloise, seven, about her illness.
'Your first instinct as a parent is to protect them,' she said. 'We didn't want them to think about it, but actually the best thing was to just be open with them.'
'You don't say "mummy is going to die". We told them I was going to have an operation, and chemotherapy to make her better. It was very emotional telling them.'
In addition to undergoing treatment, Deborah has started a blog, Bowel Babe, and a GoFundMe fundraising page, and says she's determined to get people 'talking about poo' to break down the stigma around potentially dangerous symptoms.
https://www.facebook.com/photo.php?fbid=10158189905145297&set=pb.673360296.-2207520000.1488272527.&type=3&theater
'The only times we talk about poo is when we have kids, or we're in hospital,' she added.
'When you have kids you're always talking about their pooing habits and when you're in hospital medics are only interested in asking about what your bowels are doing and if they're working or not. And really nobody else talks about it.'
'For me, the thing that made people more aware that something was wrong was when I started taking pictures of my poo. The biggest problem is having to describe what's going on. Doctors only started to talk me seriously when I started taking pictures.'
'My symptoms were quite severe, but I didn't realise, I showed my sister and she was shocked If you're experiencing problems don't be scared to take pictures to show your doctor.'
'My prognosis is 50/50, I can either spend the next five years Googling, and worrying that I might die, or I can try and have a bit of fun.'
'What you realise is there are windows of opportunity and you have to make the most of them.'