'We've been each other's anchor' Denise Welch praises husband in her battle with alcohol
Before meeting Denise, Lincoln didn't 'care if I died'.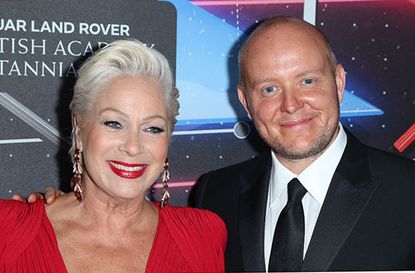 Denise Welch has spoken out about the positive influence her younger husband Lincoln Townley has had on her and her addiction to alcohol.
Former Coronation Street star Denise married her younger beau, 43-year-old Lincoln Townley, in 2013, and it appears they couldn't be happier.
Denise, 58, has spoken to Hello! magazine and admitted that she wasn't in the best state when the pair met, 'we were party animals, two people in a mess, when we first met. My marriage was in freefall and I was drinking too much.'
The Loose Women star was married to Benidorm actor Tim Healy for 24 years, but has since revealed that the relationship wasn't healthy for her. At that time her alcohol addiction was spiralling and meeting another party animal like Lincoln could have been an 'explosive disaster'.
Luckily Lincoln had a profoundly positive effect on Denise. 'Being with Lincoln could have been the most explosive disaster, but it went the opposite way. We've been each other's anchor'.
With a 15-year age gap between the couple, Denise met her fair share of criticism when they tied the knot. She told OK! magazine, 'Some people joke that I've married my carer, but who knows what the future holds?'
Lincoln has admitted that life before Denise was bleak, speaking openly about his alcohol and drug abuse, which lead to a hectic lifestyle.
The professional artist said of his time without Denise, 'I could so easily be dead now. Without doubt. I would drink all day and then start consuming drugs through the afternoon, then more heavily in the evening, and go on until the early morning'.
'I didn't care if I died, I didn't really have a reason not to. The lows were very, very low. I had no value on my life'.
But now, married life paints a very different picture for this couple, who are revelling in the huge success of Lincoln's artistry.
Lincoln's impressive paintings have garnered a celebrity following, with fans including Al Pacino, Gary Oldman and Sir Michael Cain. Lincoln has even been hailed as the next Andy Warhol.
His thriving career, producing artwork that sells with six figure price tags, seems to have had a positive effect on the pair with Lincoln reflecting, 'We encouraged one another to pursue what matters most. As a couple we have positive energy constantly flowing through us'.