We earn a commission for products purchased through some links in this article.
A tattoo artist is helping women overcome their experiences with domestic violence and breast cancer by covering their scars with beautiful designs – and she's doing it all for free.
Flavia Carvalha, who works in Curitiba in Brazil, has dubbed her project 'A Pele da Flor', a Portuguese saying meaning 'deeper than skin', and says the inspiration comes from a woman she met two years ago who wanted a scar on her abdomen covered up.
'She told me that she was at a nightclub, and when she turned down a man who approached her, he stabbed her with a switchblade,' Flavia explains.
'When she saw the finished tattoo, she was extremely moved, and that deeply touched me. I was suddenly struck by the idea of providing free tattoos to women who were left with scars following domestic violence or mastectomies. Each tattoo would act as an instrument for empowerment and a self-esteem booster.'
Image: Facebook/Flavia Carvalha
'Project the skin of the flower, the scar was caused by a bullet fired by ex-boyfriend', Flavia writes on her Facebook page. 'The Cherry Blossom is a symbol of femininity, and the beauty of life itself, because the cherry blossoms at the beginning of spring in a stunning and for a very short time, and then the flowers are gone with the wind… Gives us the lesson of how life is short and should be included intensely!'
Flavia says that she now has clients from all over the country, and the impact that her tattoos have on their lives is 'transformative'.
'The feedback I have gotten from women who were helped by this project has been extremely surprising. The sense of affection, sisterhood and camaraderie is deeper than I ever imagined,' she says.
'They contact me from all over the country, as well as from abroad. They come to the studio, share their stories of pain and resilience, and they show me their scars. Embarrassed, they cry, and hug me.'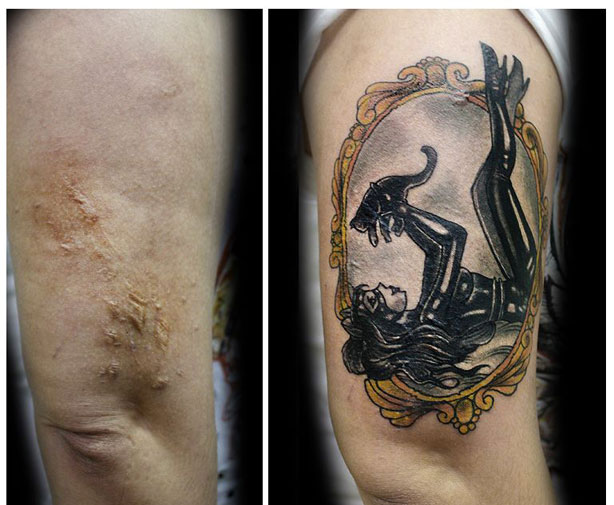 Image: Facebook/Flavia Carvalha
'This injury was caused by 'of glass-physical injury / attempted murder.' The cover-up shows that althought the project literally translates as 'the skin of the flower', many empowering designs are possible.
'Then we design the tattoo and we schedule the session. They become excited, optimistic. It is wonderful to see how their relationship with their bodies changes after they get the tattoos. I follow many of them on Facebook, and I see how, after being ashamed of their scarred bodies, they now post pictures in dresses, and they look happy, changed.'
Image: Facebook/Flavia Carvalha
'One more flower decked by project the skin of the flower!' Flavia captioned this picture. 'Bad memories turned in color and art! To be able to keep up with my girls happy and empoderadas after the tattoo, fills my heart with joy! The scars were caused by attempted murder, from stab wounds, dreno and emergency surgery (for abdominal trauma closed).'
In the future, Flavia plans to make her services more directly available to the women that need them most.
'The Municipal Secretariat of Policies for Women and I intend to establish a partnership with the Women's Police Station, in order to offer my services in a more active and direct way to women that go there to report incidences of violence,' she says.
'It [the project] is a grain of sand; the world is full of things that need to be addressed. We have a long way to go regarding protecting women against violence.'