We earn a commission for products purchased through some links in this article.
Giorgia Lanuzza has suffered from the skin condition psoriasis since the age of 13.
The now 24 year old, who hails from Basingstoke, says she felt like a 'freak' during her teenage years.
'My psoriasis looks like red, raised spots and people looked at me as if I was disgusting and they might catch something,' she admitted. 'People would stop and stare at me in the street.'
With an estimated 97% of her body covered in the sore red patches, Giorgia says that she felt so self-conscious that 'it was ruining my life.'
The peak of Giorgia's difficulties with her condition hit in January 2015, when she had to cut short a six-month trip to Thailand, as psoriasis is often exacerbated by heat and she found that she could only spend a short amount of time in the sun.
Image: Facebook/Different Skin – The Real Giorgia
Giorgia in Thailand, on a trip she had to cut short due to her psoriasis
Tired of covering up her condition and feeling ashamed, Giorgia has now decided to embrace her skin, and launched a social media campaign to help other sufferers feel proud of their bodies too – starting with posting pictures of herself in bikinis with her psoriasis on show.
'Enough was enough — I knew I had to find a way to make the condition work for me, otherwise it would ruin my life,' she explains.
'So I put together a portfolio of photos of myself in bikinis and skimpy clothing to show I wasn't going to hide my psoriasis any more. The wounds are red and scab-covered in the photos, but I won't hide them away or edit them. I'm proud of them now — they remind me that I'm strong.'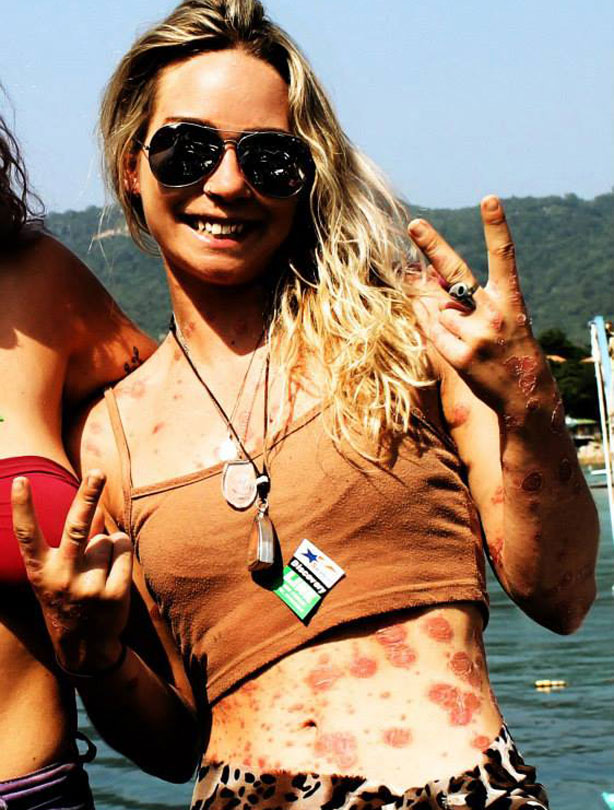 Image: Facebook/Different Skin – The Real Giorgia
Giorgia is sharing her photos in the hopes of breaking down stigmas surrounding skin conditions, and wants people with them to see that they are all 'still beautiful'
'Stressing about my flare-ups only made them worse – so now I look at my skin with a positive mindset,' she added.
'Finally I've come to terms with my skin and have realised that I am beautiful.'
Giorgia believes that her psoriasis was triggered by the passing of her father, as stress can often be a root cause of the condition.
'The condition is often triggered by trauma, and when I lost my dad I felt like the world had ended.
'My world went to pieces – we were so close when I was growing up, and I couldn't bear losing him,' she says. 'I was just a teenager and all I wanted was to be like other girls my age… Instead, giant patches of my skin were red and unsightly.'
'Grieving was difficult enough. Then, when these flaky patches started appearing on my skin, I had no idea what was happening.'
However, since her pictures have received such a positive response from the public, she says she's not only making herself but her father proud too.
'I thank my dad, as I have wanted to make him proud by doing exactly this for many years,' she wrote in a recent Facebook post.
'I want nothing more than to help everyone, and let you all know that we do not need to try treatment after treatment but to just be happy and confident in who you are.'