Herbs On The Hill headache balm branded 'magic' by shoppers and it's only £6.50
It's only £6.50!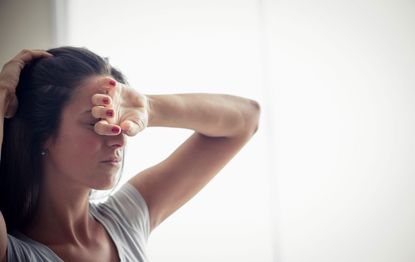 GoodTo newsletter
Sign up to the GoodTo Newsletter. You can unsubscribe at any time. For more information about how to do this, and how we hold your data, please see our privacy policy
Thank you for signing up to . You will receive a verification email shortly.
There was a problem. Please refresh the page and try again.
When you've got a headache that you just can't budge it can be infuriating and painful but shoppers are going wild for a headache balm from Herbs On The Hill which they claim works miracles.
Being aware of all the surprising headache causes (opens in new tab) might help you prevent one but it doesn't help you get rid of one.
When you've tried all the natural headache cures (opens in new tab) you can think of and sleeping it off isn't working, you might want to try this headache balm.
At just £6.50 you'd be silly not to give Herbs On The Hill's headache balm a whirl, especially as some shoppers are calling it a miracle.
One reviewer explains: 'Yes, the headache balm is marvellous. Bought some of this after seeing the review on the page, I was a bit sceptical to say the least. I suffer from migraine and sinus problems terribly and the balm was like magic.'
Another adds: 'I had a really bad headache before going to bed there is nothing worse than waking up with the same headache. Headache balm saved my night. Its come back today but again headache balm saves the day. Thank goodness for this special product can't live without it.'
A third simply says: 'I swear by this and refer to it as "magic" cream.'
Simply massage the balm on to your temples to relieve any headache pain and even migraines. According to the Herbs On The Hill website, some customers even say it helps with hangovers and eyes that are tired form staring at a computer screen day in and day out.
Herbs On The Hill are based in Frome, Somerset and pride themselves on creating 'beautiful, pure and natural aromatherapy soaps and herbal balms, creams, lotions and potions, teas and outstanding botanical loose incense.'
Luckily you don't have to make a trip all the way to Somerset just to get rid of your headache as you can purchase the balm online (opens in new tab). Alongside the classic balm there are also new products like a roll-on balm and a mist.
Postage costs £3.95 for orders under £30 and then its free for orders over. It could be worth asking your friends and family if they want to group together to try the balm. From the sounds of it you won't want to share your own 'miracle' cream when it arrives!
Will you be giving this 'miracle' headache balm ago? We'd love to hear how you get on! Head over to our Facebook page to share your thoughts and any other headache-busting tips you have!