Honest by Tulisa - review
Tulisa talks drugs, X Factor and sex tapes in her autobiography, Honest. So what did we think of it? Read our honest review...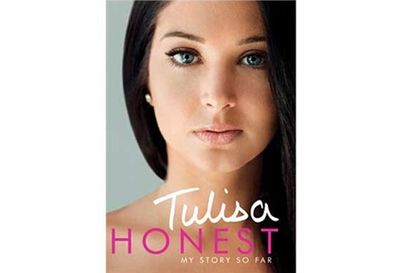 What's Tulisa: Honest about?
This is Tulisa's first book, her 'story so far'. Dubbed 'Honest', it's just that. Tulisa talks about growing up with her mentally ill mum, her dreams of being in the music industry, and her explosive relationships with her N-Dubz bandmates, Dappy, her cousin, and Fazer, her on/off boyfriend. Whilst Tulisa's life is now full of glamour, VIP treatment and flashing cameras, it's a million miles away from the troubled urban upbringing where she started out. She tell us about her dreams for more, and the realities of her life when she finally got there. She sets the record straight on a lot of things, including her relationship with fellow X Factor judge Kelly Rowland, and that sex tape.
goodtoknow says: We were excited to read Tulisa's book. She's quite a controversial celebrity, you seem to either love her or hate her, and we thought this would be a great chance for her to change people's minds about her. Whilst she may seem a little on the young side to be writing a book about her life, Tulisa's had a lot more to deal with than the average 24-year-old. We really respected her for speaking out about her mum's mental illness, and being honest about how it made her feel growing up. She also really opens up about a lot of personal details which she didn't have to reveal, like her sex life and experiences with drugs, which makes for some pretty gripping reading. There were a few things she speaks about that we'd rather she hadn't, i.e. her tattoo 'down there' and her night in an American strip club... but there are some great juicy details about her time on the X Factor, and of course, what we all wanted to read about, the infamous sex tape. Overall, if you're not a huge fan of Tulisa this book probably isn't going to change your mind, but it will certainly build your respect for how she's turned her life around.
Rating: 5/10 Publisher: Headline Publishing Group Publish Date: 2012
If you like this, you'll love: Cheryl: My Story by Cheryl Cole
Buy it now on Amazon (opens in new tab)
More book reviews in the goodtoknow Book Club. Have you read Honest by Tulisa? If you have, tell us what you thought of it by publishing your review in the comments box below.
Where to next?
Emma Donoghue's Astray - review
Donna Leon's Beastly Things - review
See the new titles in goodtoknow's 2013 Book Club
Gemma Chandler is a lifestyle writer specialising in kids' educational media across a range of topics including nature, history, science and geography across digital, print, social media and video channels. She joined Creature & Co. at 2015, shortly becoming Digital Editor of National Geographic Kids magazine.