How to stop chafing: 6 ways to soothe sore thighs
You WILL wear that skirt this summer.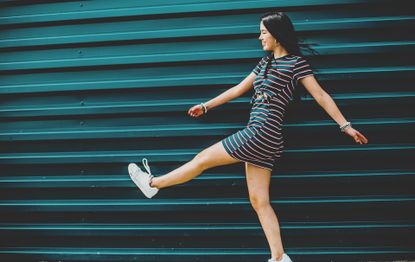 (Image credit: Getty Images)
Fed up of spending summer trying to soothe your sore, irritated inner thighs?
Chafing, or 'chub rub', as it's often affectionately known, is a universal problem when the temperatures begin to soar, and despite the nickname, women (and men!) of all shapes and sizes can be affected. But it can be tricky knowing how to stop chafing.
The issue is caused when bare skin begins to sweat and rubs against other areas of the body - generally between your legs - leaving your skin feeling red, irritated, and painful. However, the good news is that there are plenty of solutions out there to deal with chafing, and they're all inexpensive, easy to obtain and most importantly, super effective.
And with the weather now starting to warm up, it looks like we're going to need these remedies sooner rather than later.
Here's six answers to the eternal question 'how to stop chafing - fast!' Now repeat after us: I WILL wear that skirt this summer.
How to stop chafing
Liquid talc
According to the internet, liquid talc can work wonders when it comes to how to stop chafing.
This Asda Liquid Talc (opens in new tab) was originally designed for babies to moisturise their skin and help prevent chapping.
But social media users have been raving about its ability to stop those pesky summer chafes.
https://www.facebook.com/photo.php?fbid=664264840577787&set=a.105627203108223&type=3&theater
And the best part? It comes in at only 87p so you can stock up for summer!
Chafing bands
There's nothing that can stop the chafing quite like propping up a foolproof barrier.
So online clothes retailer Pretty Little Thing have got the right idea with their Chafing Bands (opens in new tab).
Available in black and nude to go with whichever outfit you've chosen, the bands come in six different sizes so that there's one for everyone.
And if you prefer, you can even get Lace Chafing Bands (opens in new tab) if you want something lighter or just to match your lingerie.
Both types are only £6 - a bargain if you're going to use them throughout the whole summer!
Deodorant
Deodorant is obviously a must-have once the hot weather hits, but did you know it can stop more than just sweat patches?
But how to stop chafing with deodorant? Well it eliminates sweat from the offending area, and therefore preventing that painful rubbing.
You'll probably need to reapply the deodorant a couple of times a day if you're active, but if you're in a pinch, it does the trick and can keep you comfortable whilst you're out and about.
If your skin in sensitive, use sparingly, as it can be quite drying; treat deodorant as a handy trick to have up your sleeve just in case, not a full-time option.
Anti-moisture powder
Image: Lush Lush Silky Underwear (opens in new tab), pictured above, is a jasmine scented powder-based product that contains cocoa butter, helping to absorb sweat and keep you dry and chafe-free while still keeping skin soft and supple, and it's a favourite for many chafe sufferers.
However, if you're on a budget, others report that you can use good old talcum powder, and it'll be equally effective.
Anti-chafing gel
Image: Run Haven Gel formulas provide a barrier between your skin, and well... more skin, creating a reduction in friction that can make chafing much more manageable on those hot, sticky days.
Body Glide (opens in new tab), which was originally developed for runners, is a popular choice, as are Lanacane Anti-Chafing Gel and Monistat Chafing Relief Complete Care Relief Powder Gel, although you'll have to order the latter online, as it's only widely available in the US.
Shapewear shorts
Image: Debenhams Realistically, you're probably not going to want to spend the whole summer sucked into an eye-wateringly tight pair of Spanx, but a light control pair of shapewear (opens in new tab) shorts worn under a dress or skirt can kick chafing to the curb for good.
Marks and Spencer, Next and Debenhams all have a good range of options - invest in one pair first to see if you find them comfortable, and then expand your collection.
Tortz
Image: Tortz (opens in new tab) Tortz (opens in new tab) are a more lightweight alternative to full-on shapewear.
They're essentially shorts made from a similar material to tights, with silicone backing on the bands to prevent them from riding up.
They come in a range of colours to suit different outfits, and would be great for a special occasion like a wedding, when you want a prettier solution to your inner thigh pain.
Bandelettes
Image: Bandelettes (opens in new tab) Smaller still are Bandelettes (opens in new tab); delicate-looking strips of lace that wrap around your thighs and stay in place to protect them all day.
Ideal if you don't like the restrictive feeling of full short structure, Bandelettes are more like lingerie than many of the other option on the market, and many users say they often forget they're even wearing them.
They're an American company but they do ship worldwide, so be sure to place your order before the warmer weather arrives!
Aleesha Badkar is a lifestyle writer who specialises in health, beauty - and the royals. After completing her MA in Magazine Journalism at the City, the University of London in 2017, she interned at Women's Health, Stylist, and Harper's Bazaar, creating features and news pieces on health, beauty, and fitness, wellbeing, and food. She loves to practice what she preaches in her everyday life with copious amounts of herbal tea, Pilates, and hyaluronic acid.