We earn a commission for products purchased through some links in this article.
Image: Tumblr/Pushing In The Pin
An American mum's photos have gone viral after she shared them to raise awareness of the harsh realities of breast cancer treatment.'Jenn Alter, who writes the Tumblr blog Pushing In The Pin, posted her images as a reaction to 'sexualised' breast cancer campaigns like No Bra day, saying she wanted people to see the truth about the illness and subsequent treatments.
'Here's your f*cking breast cancer awareness,' she wrote.
'This was during my 35-day radiation treatment back in 2013. Breast cancer isn't sexy. It's not about saving the boobies. It's not about no bra day, which is really just an excuse for women to post sexy pics of their nipples pressing through their clothes. It's scars, nausea, pain, bald heads, burnt skin, and broken hearts.'
'If this doesn't make you "aware" then I don't know what will.'
'Does it make you uncomfortable? It should.'
The message was accompanied by two images of her own breast during radiation treatment two years ago, with evidence of severe burns to her skin.
Image: Tumblr/Pushing In The Pin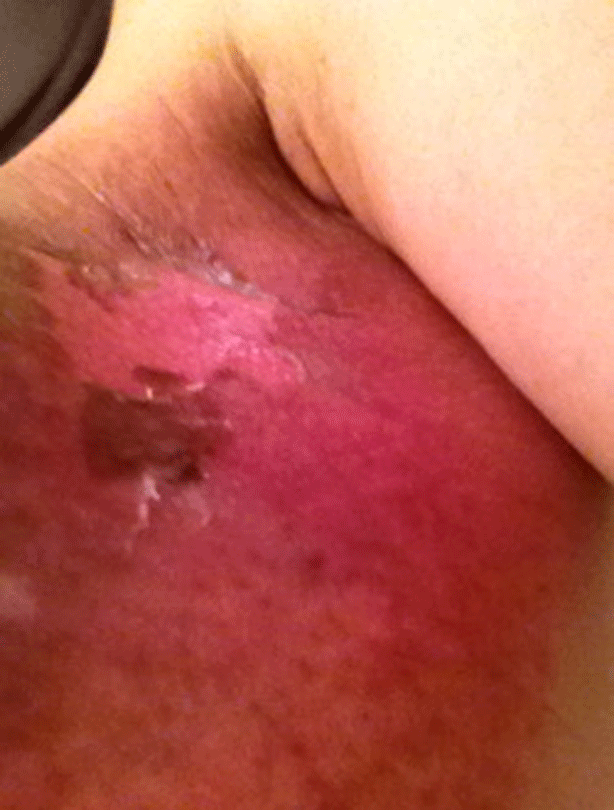 Image: Tumblr/Pushing In The Pin
Since Jenn penned it a week ago, her post has had over 77,000 notes (the Tumblr equivalent of likes, shares, and comments).
And unfortunately, she has encountered a small amount of criticism for the graphic nature of the images. In later updates however, she has written that she's been totally overwhelmed by the majority of positive responses she's received.
'I received so many sweet messages regarding my breast cancer awareness/radiation post. You guys… *all the hearts*,' she typed.
'I've had at least one hundred messages today from people telling me that I have changed the way they look at breast cancer and cancer awareness in general. Holy shit, you guys. I never ever expected this response.'
'Thank you.'
What do you think to Jenn's posts? Let us know by leaving a comment in the section below.