The brilliant reason these celebs are all posing with tampons
It's #justatampon, after all.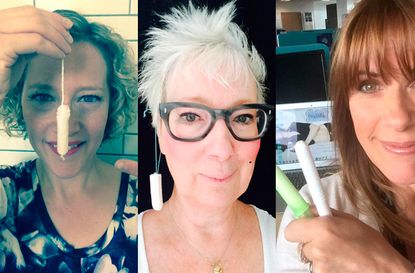 Whether you're shy and private about them, or more confident with your conversations, there's no denying that the subject of periods (opens in new tab)
is still seen as a bit of a taboo in polite society - and that's something that needs to change.
Approximately 800 million women between the ages of 15 and 49 are menstruating each day - and whilst having a period in the UK might cause you a bit of discomfort and inconvenience, women around the world face much bigger issues when it's their time of the month.
It's for this reason that Plan UK have launched a campain to break down the stigma around periods, and more specifically, sanitary products, to highlight the plight of these women, and what we can do to help.
'#JustATampon is a campaign to start a conversation about periods. The stigma and embarrassment attached to women's periods contributes to gender inequality worldwide,' the charity explains on their website.
'Around the world, millions of girls face discrimination just for being girls. One way this manifests itself is through poor access to quality menstrual health and hygiene. It not only poses health issues, but means girls can miss school when they have their period and face bullying. Only 12 percent of girls and women have access to sanitary products around the world. And in Africa, one in ten girls miss school when they have their period.'
'There's nothing to be embarrassed about, but just a tampon can change women's lives.'
More: Everything you need to know about your period (opens in new tab)
The #JustATampon campaign has already attracted high profile support from celebs including Jenny Eclair, Carole Smillie and Cathy Newman:
'I don't need tampons any more but others do,' Jenny tweeted. 'Support #justatampon - break taboos and text TAMPON to 70007 and your £3 donation will help supply a years sanitary stuff for a girl in Uganda. Remember periods can be a pain for us, for others in the developing world they can be a nightmare #justatampon'
'Don't panic it's #justatampon @PlanUK', Carole said in her tweet.
'Guys, it's just a piece of cotton on a string...#JustATampon' Cathy posted.
And even Channel 4 newsreader Jon Snow has shown his support for the campaign:
'#Justatampon support the effort to stop taxing a female necessity :Text Tampon to 70007 to donate £3 to @planUK', he wrote.
As you may have gathered, the goal of the campaign is to raise money for Plan UK's menstral health work in the developing world.
More: Should we have to pay a tax on tampons? (opens in new tab)
'Just £3 can provide a girl in Uganda sanitary towels for a year. Donations will help tackle discrimination faced by girls globally, not just around menstrual hygiene but other issues they face including child marriage and female genital mutilation,' the charity says.
We can't imagine facing bullying, discrimination and exclusion for something that we have no say over, whilst still experiencing all of the symptoms that come along with having a period itself. It's briliant to see these celebs get behind such a worthy campaign, and we'll be texting in our donations too.
To show your support for the #JustATampon campaign, text TAMPON to 70007 to donate £3 to Plan UK.
Trusted, informative, and empathetic – GoodTo is the ultimate online destination for mums. Established in 2007, our 15-year-strong archive of content includes more than 18,000 articles, 1,500 how-to videos, and 7,000 recipes.