We earn a commission for products purchased through some links in this article.
A young blogger who struggles with depression has decided to speak out in a candid video posted on YouTube.
Leila Buffery's usual subject matter is her love of vegan food. She can often be found sharing her homemade vegan recipe tutorials with her 1,000 YouTube subscribers and posting pics of her latest vegan bakery-find on Instagram. But on this occasion, Leila decided to address a very different part of her life. 
She says, 'This video is about depression and my experience of it, but I don't want it to be negative, I want it to be a nice thing. I want it to raise awareness.'
Image: YouTube/Leila Buffery
Addressing her followers, she goes on to explain her reasons for posting the video. She says, 'I feel it's really important to talk about it because I've noticed that all of your comments say how positive I am. It's brilliant that you're getting that from my videos, but I feel I would be a fraud if I didn't explain the other side of my life where I struggle with depression.' 
She explains that her depression started at the age of 19, around the time her parents separated, although it took her a long time to recognise that her feelings were caused by depression. She said 'every day you're trying not to cry about something', and although she found she was able to function normally and go about her every day life, she couldn't escape the 'emptiness' that she felt inside.
At the point of feeling 'almost suicidal' she sought help at the doctors. She speaks openly about the different types of antidepressants she tried, and the variety of highs and lows she found with each.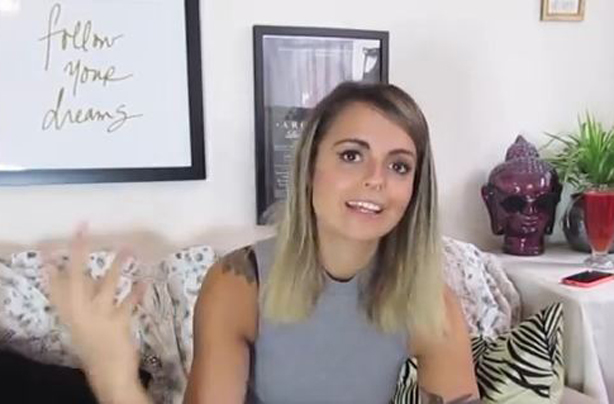 Image: YouTube/Leila Buffery
For those who may be feeling nervous about taking antidepressants, there are plenty of natural remedies for depression you can try, but Leila offers the following advice: 'Life is way too long for you to feel depressed every day. If you have to go on some tablets for a little while, it doesn't matter. You don't have to tell anyone if you don't want to. You've just got to get yourself out, because nothing is worth feeling like this.'
Explaining that she is still taking a low dose of antidepressants, she says, 'I feel happy. I think that antidepressants have been painted in quite a bad light. When the clouds draw in, I can't be me, but now I'm taking sertraline, I'm allowed to be who I actually am.'
You can watch Leila's video below
What do you think about antidepressants? Have you ever taken them? Or have you tried other avenues first? We'd love to hear your thoughts. Leave us a comment below.