'Why fat girls SHOULD wear bikinis' Plus-size blogger's defense of women in swimwear goes viral
'Any woman, no matter her size, any man, any human being, they're not looking for your approval or your praise of what they're wearing.'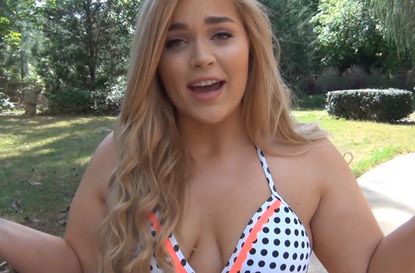 Swimsuit season can be tough for anyone who doesn't feel their best in lycra - especially when other people feel it appropriate to comment on your appearance.
This is a fact that plus-size YouTube blogger Loey Lane knows all too well. The 22-year-old student runs a popular fashion and beauty blog, and whilst many of the comments she gets on her account are admiring and supportive, there are inevitably some critics that are not quite so kind.
Loey, who frequently posts confident pictures of herself in her favourite bikinis, and other summery outfits like shorts, decided that her next video would be a response to people who share less favourable comments about larger girls showing skin. Her argument was so fierce and so fantastic that it's gone viral, with over 934,000 views.
'I've realised in a lot of my videos that I have been wearing the swimsuits', she says at the beginning of the 4-minute film, entitled 'Why fat girls shouldn't wear bikinis'. 'And through my trial and error on YouTube I've learned that apparently fat girls in bikinis get a lot of mixed reviews, so I thought I would give you a list today of the reasons why fat girls shouldn't wear bikinis, apparently. Let's go.'
'The first thing I'm told a lot is that bikinis don't look good on bigger girls...'
'...I'm gonna have to disagree.'
'I didn't realise that there was a meeting and all of the people who were allowed to come in and decide what was attractive and what was not are now commenters on YouTube.'
'The second thing that I'm told a lot is that it makes people uncomfortable, so seeing this much skin on a bigger girl makes someone else uncomfortable. Again, why is it that someone else can dictate that you are not allowed to put something on your body that makes THEM uncomfortable?'
'Other body types are not told this, fit women, in-shape women, are not told to take off their running shorts because it makes people uncomfortable, thin women are not told to stop wearing whatever they're wearing because it makes someone else uncomfortable. So I'm gonna call bull on that one and ask why someone who is larger should have to cover more square inches of their body because your brain cannot somehow process that there is a person in front of you in minimal clothing,' Loey explains.
'The third thing I'm told constantly is that we are promoting obesity,' she continues. 'So someone who's fat, plus-size, curvy, whatever you want to call it, if they are in less clothing, or more revealing clothing, clothing that primarily a thinner woman would wear, we are "promoting obesity".'
'Anyone who is fat and not absolutely miserable is promoting obesity by the way.'
Speaking about her own experience, Loey says: 'I have to say when I'm sitting there on the beach in a bikini I'm not usually shoving my face full of junk food, or screaming at the top of my lungs about how everyone should be overweight, I'm not holding up, like, protest signs that say all people should be obese or fat. I'm usually just sitting there minding my own business.'
Then the video takes a serious turn, as Loey talks about other people's unwanted input.
'The fourth one I've gotten a lot in the past couple of months, and it's really really really bothered me, and I'm gonna be kind of serious on this one, is that when someone who is larger is in a swimsuit that's not like a one-piece, or you know, something that basically covers all of our body, I get told a lot that we're "asking" for feedback,' she tells her viewers. ' So that's to justify someone else saying to me "hey, that swimsuit looks like sh*t on you", go work out'.
'To me, that's genuinely sort of scary, to think that because someone is wearing less clothing, they're asking for some sort of feedback.'
'Any woman, no matter her size, any man, any human being, they're not looking for your approval or your praise of what they're wearing,' she continues. 'To think that someone else really cares about your opinion more than they care about how something looks on themselves, it's scary, it's egotistical, and you might wanna re-evaluate things.'
Loey then has a kind of fake epiphany, where she 'realises' that all of the criticisms just do not matter in the slightest.
'You know, now kinda going over this list, I don't really think any of these excuses are valid, so does that mean we get to continue wearing what we want?'
'Hot damn, it's not the 1950's after all!' she cries.
Watch Loey's video in full
http://www.youtube.com/watch?v=4haAyhmxz8k
Oh, and by the way, this is what Loey looks like in a bikini
Image: Instagram/Loey Lane (opens in new tab)
Pretty darn gorgeous, wouldn't you agree?
Image: Instagram/Loey Lane (opens in new tab)
Are you confident enough to flaunt the flesh in a bikini? Or have other people's cruel comments put you off your swimwear? Leave us a comment and let us know your thoughts below!
Trusted, informative, and empathetic – GoodTo is the ultimate online destination for mums. Established in 2007, our 15-year-strong archive of content includes more than 18,000 articles, 1,500 how-to videos, and 7,000 recipes.