Maestra by L.S. Hilton book review
Read our review of L.S.Hilton's novel Maestra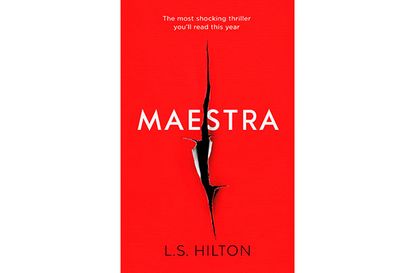 What is Maestra about?
Judith Rashleigh knows what she wants and exactly how to get it. She's young, she's beautiful and she's sexually empowered. The one thing that Judith doesn't have though is money.
Working as an assistant in a top art gallery, her measly salary doesn't afford Judith the life she envisioned for herself – it's more take-aways in her student flat than glamorous parties with immensely rich art dealers. The social snobbery and corruption she's witnessed in the art world have dulled her once bright hopes for the future – it doesn't matter how much you know, or how many languages you speak. If you don't have the background it doesn't matter how impressive your CV sounds.
Goodtoknow says...
Judith bumps into an old school friend and she sees an opportunity to make some serious money moonlighting as a hostess in a seedy West End bar. The men might be creepy, but the money's good. And the nights have nothing on her usual evenings spent at sex parties.
When she's unceremoniously sacked from her job at the art gallery after uncovering a conspiracy, it's her hostess role she falls back on. One customer has taken a particular liking to her and a trip to the French Riviera is on the cards – it can't help to take a break, can it?
When everything quickly goes down the pan and Judith finds herself in a battle for her life, she's forced to fake it among the rich and famous to survive.
Judith is nothing like any female characters I've read before. She's strong, she's self-assured, and she outsmarts everyone around her. If you thought Gillian Flynn's Amy from Gone Girl was crazy, you're in for a shock. The sex scenes can be gratuitous and at times unnecessary, but at least Maestra has a strong plot to fall back on. You'll find yourself routing for Judith despite her rather large list of misdoings and unapologetic view of violence.
It's Gone Girl meets 50 Shades, but our heroine is smarter and sexier. The film rights have already been sold and we can't wait to see which actress will be picked to take Judith Rashleigh to the big screen.
Rating: 6/10 Publisher: Zaffre Publish Date: 10th March 2016
Trusted, informative, and empathetic – GoodTo is the ultimate online destination for mums. Established in 2007, our 15-year-strong archive of content includes more than 18,000 articles, 1,500 how-to videos, and 7,000 recipes.