Mum who hasn't washed her hair for eight months says it's never looked better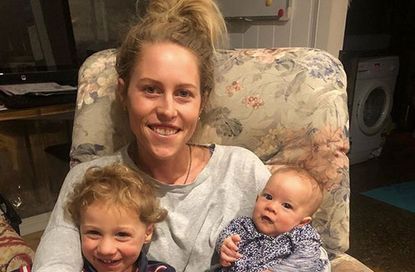 A mum who hasn't washed her hair in eight months has opened about her 'no poo' experience and said her mane hasn't looked better.
Virginia Tapp wrote about the months she's been living without shampoo or conditioner on her blog, Bush Bambinos, explaining how she wanted to 'use less stuff' on her body and 'send less stuff down the drain'.
The movement is called 'no poo', a theory that suggests that by using gentle alternatives to shampoo like baking soda, apple cider vinegar or even just water only to wash your hair, you'll achieve clean hair without the damage or dependency on daily shampooing.
Virginia wrote in her blog: 'Isn't it just a little bit strange that we have to use three different types of soap when we wash? Is that so people can sell me more stuff I don't actually need?'
She goes on to say that she hasn't missed using the hair products, and that her hair didn't change at all.
'To be honest I haven't even missed it – one less thing I have to do in my day. Some people talk about transitioning and weaning off shampoo but you want to know what happened when I stopped washing my hair cold turkey? Nothing. Nothing happened for six months. Turns out there is nothing I do in my day that can't be washed off with regular hot water', she said.
Six months after ditching shampoo, the mum says she found her hair was getting oily at the roots, but fixed the problem by scrubbing her scalp with one tablespoon of bicarb soda dissolved in a cup of warm water.
The mum also added that she realises the movement might not be for everyone, but that the more natural the better when it comes to the products you pick.
'Shampoo also contains quite powerful detergent and emulsifying agents. The general rule is the more foamy and sudsy your shampoo lather is – the more ingredients it contains that you can't spell or pronounce. And after that stuff goes down the drain where does it actually end up?? I don't know. Maybe the fish have become accustomed to getting shampoo in their eyes', she added.
Reflecting on the eight moments, the mum wrote: 'So in summary I stopped washing my hair and nobody died. If anything I actually get less knots now. Hair is neither oily or dry. It doesn't smell like Palmolive but it doesn't smell like sour milk either. It just smells like hair.'
Since sharing her experience, the mum has been receiving a lot of praise on social media for taking the plunge and joining the 'no poo' movement.
One said: 'So good to hear you're reducing shampoo use! That in itself is really positive - less packaging and less going down the drain. The bicarb in warm water truly does work if it's the oiliness you're worried about! But hair does adjust to less washing. Good luck!'
Another wrote: 'Hahah go mama! I did 9 months no shampoo! Was so great! Really detoxed hair and body and loved the thickness!'
Mariana is a lifestyle writer who has written for Goodto.com and My Imperfect Life. She joined the Goodto.com team as an intern after completing her journalism MA at City University. After six months spent writing about food, celebrity news, and family trends, Mariana left to write for Healthy Food magazine - but returned in 2017, to join the Future team once again. In her spare time, you'll find Mariana in the kitchen cooking for her friends.