Mum shares photo of excess skin to show reality of 90lbs weight loss
The mum-of-two put the weight on after having her sons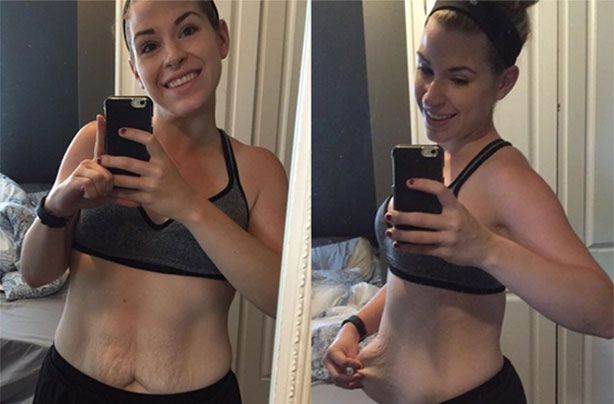 A mum has shared a photo of her excess skin to show what it's actually like to lose a lot weight.
Instagrammer Rachel Graham shared a photo of herself stretching the excess skin on her stomach, which was left after she lost an amazing 901lbs.
She decided to share the honest photo to celebrate her healthier lifestyle, rather than obsessing with the loose skin that is left over.
In the post, which has 5,386 likes and nearly 300 comments, she says: 'The anxiety posting this is REAL. Taken a few minutes apart, flexing in the first. "How did you avoid loose skin and stretch marks?" Heyyyyy, I didn't! Its all there.
'High waisted bottoms have become my bff. Do I regret losing weight? Hellllll noooooo. NEVER. Not even a slightest thought. I am more FIT than I've ever been in my entire life. Happier. HEALTHIER.'
The mum-of-two also revealed how she's 'been through a 90lb+ gain and loss', and lost over 100lb from her highest weight while pregnant.
While her loose skin was a result of this drastic slimming, Rachel said: 'Will it be worth it regardless? YES.'
Rachel began documenting her journey on Instagram after wanting to lose the weight she put on after having her two sons. She admitted to trying to find the next 'quick fix', but put her incredible weight loss down to a complete lifestyle change.
In an earlier Instagram post, she said: 'I had tried sooo many gimmicks before I made this realization. What really needed though was healthy food and exercise, not a short term attempt at a solution.
'I calorie counted for agggges to make sure I wasn't eating too much or too little. Also, losing weight isn't a "one size fits all" thing.'
Rachel added that while she does plan to have surgery in the future, she wants to spend her time focusing on body positivity rather than her insecurities.
Charlotte Whistlecroft is a former Family writer at GoodTo. She obtained a BA in Theology and Theological Studies at Durham University, going on to study a masters at City University London in 2016. Since leaving GoodTo she has worked as a Social Video Researcher at Mail Online and is now Assistant Producer at BBC Sport.